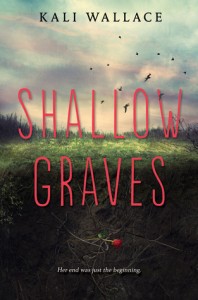 Wallace, Kali. Shallow Graves. New York: Katherine Tegen Books, 2016. 978-0-06236-0620-7. $17.99. 360pp. Gr. 9-12.
Breezy Lin wakes up in a shallow grave, clinging to a man who was unburying her and killing him in the process. She doesn't remember who killed her or how she died, but she knows the man who woke her was a murderer. Now Breezy is wandering, not dead but not alive, trying to discover all she can about the year that's passed since her unsolved murder. One thing's for sure, Breezy can sense when someone has murdered, and she can kill them with a touch of her hand. Her mysterious peculiarity leads her to a youth ministry, where she hopes to find friends but finds only demon hunters instead. On the run, Breezy teams up with some interesting, paranormal creatures to escape the hunters. While Breezy's murder storyline is engaging and there's an interesting mix of paranormal with reality, Wallace doesn't commit to any particular plot line. Readers are often confused about what's going on and why they should care. THOUGHTS: There's potential here for a good mystery, but the story and characters end up flat.
Paranormal Mystery; Horror      Vicki Schwoebel, Friends' Central School
Matson, Morgan. The Unexpected Everything. New York: Simon and Schuster, 2016. 978-1481404549. 528 p. $17.99. Gr. 9 and up.
Andi has lived her life in the public eye, always worrying about how her appearance, actions, and reactions will affect the political life of her Congressman father. She has a longtime set of friends that act more like her family, since her mother died a few years ago and Andi's father focused even more attention on his political agenda. Now, the summer before her senior year, Andi is prepared to leave home and attend a Young Scholars Program at John Hopkins University, and she can't get out quick enough. Suddenly, a scandal rocks her father's world, and all of Andi's summer plans are null and void. Desperate for a job, she interviews for a dog-walking position and soon finds herself juggling 3-4 active canines multiple times a day. She takes an interest in one young man and his dog, and a beautiful summer romance begins, but could she find something more with the shy, sweet young writer, who, of course, is dealing with his own demons? The characters are well-drawn and likeable, especially Andi's group of fun and feisty friends. The romances can seem a bit cliche at times, but what high school romance is not fraught with angst and sighs of longing, with parties on the beach and chiseled bodies? Yet, Matson gives depth and space to Andi's father throughout the story, and his development seems to mirror that of his daughter's and separates this novel from the normal teen romance. THOUGHTS: This is an excellent summer romance book and would be perfect for teens who think they know what they want, but are wondering if something can be found on a distant and uncharted horizon.
Realistic Fiction     Lindsey Myers, Shady Side Academy Senior School
This was a sweet yet slightly imperfect read for a summer break. The characters were fun, but the story was drawn out a bit too much at times, and might lose the attention of a more reluctant reader unable to make it through the 500+ pages. Parts do include text message exchanges between the friends, and these are hilarious and fast-paced, giving the reader a break from the heavy inner monologue going on at times. I will probably be recommending this to mostly freshman, sophomores and juniors, as it is a bit young for seniors.
Rudnick, Paul. It's All Your Fault. New York, Scholastic Press, 2016. 978-0545464284. 304p. $19.99. Gr. 9 and up.
Rudnick's novel reads a bit like a Disney Channel movie, with a dash of PG-13 action mixed in, which makes for a fun and easy read. Caitlin Singleberry is one of 9 siblings and has been homeschooled her whole life. She loves her knee socks and singing in her family's group, the Singing Singleberries. She does, however, have a movie-star cousin/former best friend who their mothers decide is in need of Caitlin's help. The aptly-named Heller is the star of a new movie based on a popular book series (think Hunger Games meets Harry Potter), and must participate in numerous public events. Due to past indiscretions, her production team and mother need someone to watch over her and keep her on the straight and narrow. Who better to do this than Caitlin, who sees herself as a good, Christian, law-abiding girl? What ensues is a fast-paced romp that might help Caitlin realize what she needed in life all along. Rudnick slowly reveals what happened between Heller and Caitlin to end their friendship, though this technique does seem a bit contrived at times. Yet, Caitlin and Heller both face inner demons, and young adults will appreciate the authentic portrayal of teen issues, even if the experiences the girls go through might not be relatable.  THOUGHTS: The plot does move fast and the writing is fresh and fun, so reluctant readers will eat this up.
Realistic Fiction   Lindsey Myers, Shady Side Academy Senior School
Against my better judgement, I did find myself enjoying this novel. I did love Disney Channel movies as a child (and I sometimes feel nostalgic for them as an adult!), so this novel was a simple and fun read after a summer heavy with non-fiction. I found myself laughing out loud at times, and thoroughly engrossed in the antics of the two young protagonists. There is some alcohol use involved, which raises it above the level of the Disney movie, where characters sometimes never even kiss. I can see younger students enjoying this, and will probably be recommending it to my freshmen this fall.