Collingridge, Richard. Lionheart. New York, NY: Scholastic, 2016. 978-0-545-83321-9.  unpaged. $17.99. Gr. Pre-K – 2.
To face fears or run away is a dilemma that everyone must decide. When Richard feels a monster approaching at night, he and his stuffed toy lion chose to run. Their journey grows into an imaginary adventure of full of fear and wonder, until Richard meets his Lionheart and learns to ROAR! The shimmering lion and shadowy monster are brilliantly shown in paintings by Collingridge, and the boy himself is so relatable and emotional that students should be able to stand by him to the end. A captivating read about bravery, heart, and imagination.  THOUGHTS: This would make an interesting comparison text to Where the Wild Things Are. It could also start a writing prompt or theme around using stuffed animals to deal with problems.
Picture Book     Dustin Brackbill, Mt. Nittany Elementary
Graves, Keith. Puppy!. New York, NY: Roaring Brook Press, 2016. 978-1-62672-225-5. 24 pages. $16.99. Gr. K-2.
Trog is a cave kid who has cool toys (stick, rock, mud), but really wanted a pet! So, when he found a creature to keep, he called it puppy and took it home to be his. It turns out that having a pet can be difficult, especially when it eats everything and cries all the time. The humor in this cartoon picture book by Keith Graves will tickle young readers and keep them guessing. The final resolution makes sense, as does Trog's laughable next attempt. Puppy! is a pet story that you won't soon forget.  THOUGHTS:  Puppy! is a fine example of point of view for young readers, and also gives first time readers a sense of prediction and AHA moments!
Picture Book     Dustin Brackbill, Mt. Nittany Elementary
Brown, Lisa. The Airport Book. New York: Roaring Brook Press, 2016. 978-1-62672-091-6. 32pp. $17.99. Gr K-3.
In simple, straightforward text, Lisa Brown walks young readers through the experience of travelling to an airport and boarding an airplane. A mixed-race family's journey begins with a taxi ride from their city apartment to a large airport. They wait in lines at the ticket counter, to check their bags, to use the restroom, and to go through security. They maneuver past the bustling airport restaurants and shops until they reach their gate where they wait some more. Eventually, they board the plane, stow their luggage, listen to the safety announcements, buckle their seatbelts, and take off. While the family enjoys the flight from the plane's main cabin, sharp-eyed readers will want to keep a close eye on the little girl's sock monkey who takes a parallel journey in a checked suitcase. THOUGHTS:  Readers will enjoy people-watching and following other families through the airport as well, and if they look closely, they'll spot famous aviators like Amelia Earhart and the Wright Brothers. The India ink and watercolor illustrations are brimming with action and perfectly capture the harried tempo of airport life.
Picture Book     Anne Bozievich, Friendship Elementary, Southern York County
This is a book to be read over and over again, and during each repeated reading, children will notice new details in the illustrations. My kindergarten teachers were excited to add it to their transportation unit since it puts a new spin on what it's like to take a plane ride. Overall, a winner for most collections.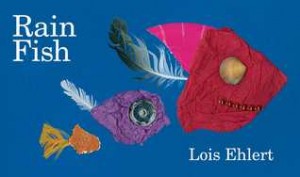 Ehlert, Lois. Rain Fish. New York: Beach Lane Books, 2016. 978-1-4814-6152-8. 36pp. $17.99. Gr. K-3.
This short, rhyming tale celebrates the creative spirit as Ehlert uses her imagination to see fish shapes formed from everyday found objects. She imagines that these fish emerge when blue skies turn gray and rain falls all day. Readers must examine each collage carefully to locate all the hidden fish. Fish are formed from everyday items such as cardboard, leaves, ticket stubs, feathers, paper plates, and bottle caps. The last page showcases many of the items Ehlert used to create her collages, and it will give readers ideas for items they might collect to make collages of their own.  THOUGHTS:  This book will be well-received by Ehlert fans, and the collection of objects that she used to create collages is perfect inspiration for a crafty extension activity following a read-aloud. Share this one with your art teacher.  
Picture Book      Anne Bozievich, Friendship Elementary, Southern York County