Rowling, J.K., John Tiffany, and Jack Thorne. Harry Potter and the Cursed Child. New York: Scholastic, Inc, 2016. 978-1-33809-913-3. $29.99. 343 pp. Gr. 6-12.
The eighth book in the Harry Potter series is set nineteen years after the end of Harry Potter and the Deathly Hallows, taking readers back to the enchanting world of wizards. Harry, Ron and Hermione all work at the Ministry of Magic, balancing careers with their family life; all have children attending Hogwarts. In his first year at Hogwarts, Harry and Ginny's youngest son, Albus, is sorted into Slytherin, and instantly befriends Draco Malfoy's son, Scorpious. The two seclude themselves from others and grow up mostly as outcasts. As Albus enters his teen years, he struggles with having famous Harry Potter as a father, and Harry struggles to understand his adolescent son. Meanwhile, a time-turner is uncovered at the Ministry of Magic, and Amos Diggory pleads with Harry to travel back and save his son Cedric. Fans of the original series will love the journey back in time, happy to meet old characters and new. THOUGHTS:  The play format might seem sparse to seasoned Harry Potter readers, but fanatics and fans alike will love traveling back to Hogwarts to see what Harry, Ron, and Hermione are up to.
Fantasy        Vicki Schwoebel, Friends' Central School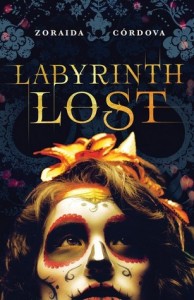 Córdova, Zoraida. Labyrinth Lost. Naperville, IL: Sourcebooks Fire, 2016. 978-1-4926-2094-5. 324 pp. $17.99. Gr. 8 and up.
Alejandra just wants to be a normal Brooklyn teenager who hangs out with her friends, goes to concerts, and definitely does not come from a long line of brujas (witches). Instead, she's a burgeoning encantrix whose Deathday ceremony (a chance to connect with and be blessed by her ancestors) is fast approaching. So Alex, who hates her magic, devises a risky plan to perform a spell that will cast out her powers. When the spell backfires, Alex's whole family disappears into the spirit realm of Los Lagos. With the help of cute but mysterious Nova, Alex opens a portal to Los Lagos so she can rescue her family. Suddenly, everything depends on the powers she's never bothered to hone. It's truly a bruja's odyssey, complete with challenges, obstacles, and tricksters. The cliffhanger ending will either frustrate readers or entice them to read the forthcoming sequel. THOUGHTS: Cordova has crafted a fully realized world and a beguiling mythology that more than compensates for the novel's slightly slow start (Alex's family doesn't disappear until nearly a third of the way into the book's 300+ pages).
Fantasy Fiction        Amy V. Pickett, Ridley High School Library
Telgemeier, Raina. Ghosts. New York: Graphix, 2016. 978-0-54554-062-9. $24.99. Gr. 6-12.
Cat and her family are moving to Northern California. The salty sea air there is better for her younger sister Maya, who has cystic fibrosis. While her family is excited for the change, Cat is sad to leave her friends back in Southern California and anxious about her new town which is said to be very haunted. Cat and Maya's neighbor, Carlos, takes them on a ghost tour through town, and an encounter with the spirits leaves Maya hospitalized. Cat is determined to keep her sister safely away from the ghosts, but when Maya returns home, she is determined to see them again. Cat is scared, and not just of ghosts; Dia de los Muertos is coming up, and meeting with the many ghosts may be too much for Maya. Telgemeier once again creates an excellent middle grade graphic novel that explores tough issues through relatable text and beautiful illustrations. For those who loved Telgemeier's previous books Smile, Drama and Sisters, this will be another popular graphic novel in your Middle School. THOUGHTS: An exciting opportunity to incorporate a supplemental text and a graphic novel into a language class that studies Dia de los Muertos. Students really relate to and love Telgemeier's story and artwork. While relatable to tweens and teens, readers also get a chance to explore cultural traditions they may not be familiar with.
Paranormal Fantasy        Victoria Schoewbel, Friends' Central School