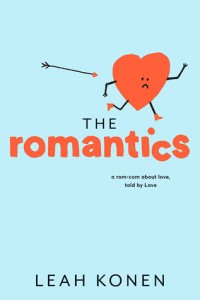 Konen, Leah. The Romantics. New York: Amulet Books, 2016. Print. 978-1419721939. 336p. $18.95. Gr. 9 and up.
Leah Konen has written a lively, sweet, and engaging novel of love and loss among teens as well as adults. There is, however, a slight twist to this typical teen novel: Love narrates the story, interjecting opinions, facts, and definitions throughout. Love gives a specific definition to how each character experiences love and relationships. Main character Gael is a Romantic, a lover of love. He is a senior attending high school in the college town of Chapel Hill, and decides, against better judgement, to declare his love for his girlfriend of two months. His love is not only not reciprocated, but he soon sees his girlfriend kissing his best friend.  Gael's belief in love is challenged, especially in light of the fact that his parents recently decided to separate.  Teens and adults alike will be able to easily relate to one or more characters and the definitions provided by Love. Love is, of course, a serious subject, but Konen reminds us that we should have fun and enjoy ourselves along the way. THOUGHTS: I highly recommend this for teens who enjoy positive and fun romantic novels.
Realistic Fiction       Lindsey Myers, Shady Side Academy Senior School
I did truly enjoy this novel. After suffering through the usual teen fair of angst, unrequited love, and "serious" relationships, it was refreshing to read a novel that was honest yet heartwarming about human relationships and teens' lives in general. When this is published in November, I cannot wait to purchase a hardcover copy for my library.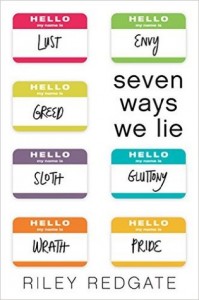 Redgate, Riley. Seven Ways We Lie. New York: Abrams, 2016. Print. 978-1419719448. 352p. $17.95. Gr. 9 and up.
The multiple perspectives in this novel truly set it apart from the general teen novel, which are often told from only one' character's first person perspective. In Seven Ways We Lie, debut author Riley Redgate has succeeded in authentically representing a diverse group of individuals and providing a convincing voice for each. The story opens with students in Paloma High School at an all-school assembly where the principal announces that they will be investigating allegations of a teacher-student relationship. The students are shocked, and rumors abound. The chapters alternate between 7 characters and their experience of the situation. These characters offer a good representation of the variety of students in high school settings, how their hopes and dreams differ, and what affects each student in different ways. The story deals with real issues in a mature way, not vilifying but also not exonerating the characters for their faults.  Redgate, only a recent college graduate, provides true insight into teen lives and how these lives overlap. THOUGHTS:  I found myself wanting to stay up late to finish this story, and teens will, too.
Realistic Fiction        Lindsey Myers, Shady Side Academy Senior School
I was pleasantly surprised with this title, as it did keep my attention and make me think about all of the different experiences that teens can face in high school, and how these experiences shape their lives and friendships. I cannot wait until Redgate publishes a new novel.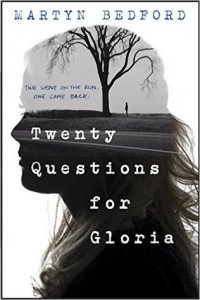 Bedford, Martyn. Twenty Questions for Gloria. New York: Wendy Lamb, 2016. 978-0-553-53939-4. 273p. $16.99. Gr. 9-12.
In present day Yorkshire, England, 15 year old Gloria has just returned home after running away for two weeks with a classmate. Bedford utilizes flashbacks as well as questioning of Gloria by a police inspector upon her return to gradually reveal the events surrounding the pair's time on the run. Gloria was living a typical British teenage life, when one day, Uman Padeem transferred into her school. Uman is smart and passionate. He defies authority and seemingly does whatever he wants. In Unman, Gloria sees everything she is not. So, when he suggests they leave town, Gloria sees a chance to escape her mundane existence and embark on an adventure. But after two weeks on the run, and after learning more about Uman, the adventure doesn't look so appealing. THOUGHTS: This unique story will keep readers turning the page to discover what will happen next in Gloria's story. Teens will relate to Gloria's desire to have choices in her life and to determine her own future. Recommend to fans of contemporary fiction and mysteries.
Realistic Fiction            Elizabeth Henry, Lampeter-Strasburg HS/MS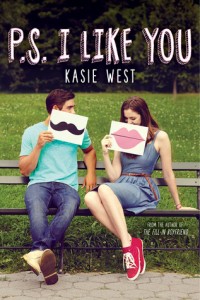 West, Kasie. P.S. I Like You. New York: Scholastic, 2016. 978-0-545-85097-1. 326p. $17.99. Gr. 7-12.
Lily finds chemistry class dull, so one day to pass the time, she jots down some song lyrics on her desk. To her surprise, the next day in class she discovers a reply to her lyrics. It seems that someone who shares her desk enjoys the same music as she does. Soon these two strangers are exchanging notes in which they gradually reveal more about their innermost thoughts and feelings to one another. When Lily realizes that she has developed romantic feelings for this anonymous pen pal, she decides it's time to discover his true identity. Could it be someone she already knows?  THOUGHTS: This enjoyable read is perfect for tween and teen fans of contemporary YA romance. Astute readers may notice some similarities to the movie You've Got Mail (I mean this as a compliment; it's an enjoyable film). Lily's life is more than just romance; a major plot point follows her as gains in confidence in her songwriting abilities. Recommended for both middle school and high school collections.  
Realistic Fiction       Elizabeth Henry, Lampeter-Strasburg HS/MS