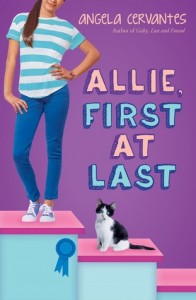 Cervantes, Angela. Allie, First At Last. New York: Scholastic Press, 2016. 978-0-545-81223-8. 200 p. $16.99. Gr. 3-6.
Fifth grader Allie wants to make her mark as all of her family has already done. She works diligently on her volcano project, but it does not erupt at the science fair. The new student, Victor, places his green goo project in her volcano when Allie leaves her table to cheer up her previous best friend, Sara. Since Allie did not win the fair, her family does not go out for tacos. Allie's great-grandfather, a living legend and hero of WWII, reminds her parents to stay true to their words.  As the story progresses, Allie and Victor become good friends, but she is shocked to learn that Victor applied for the same contest as her.  Her entry about her great grandfather has advanced in the competition, but should she have included more than his achievements in war time? THOUGHTS: Many students experience changes in friends, making this book perfect for upper elementary and middle school readers. While readers might not feel the pressure to be first in something like Allie, they probably wish to succeed in a multitude of areas. Allie comes to understand that family and friendship is more important than being first in an award.
Realistic Fiction         Beth McGuire, Wendover Middle School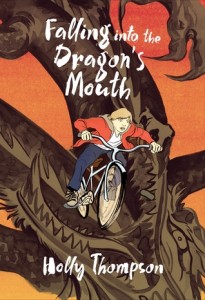 Thompson, Holly. Falling into the Dragon's Mouth.  New York: Henry Holt, 2016. 978-1-62779-134-2. 343 p. $17.99. Gr. 5-8.
Josh Parker is in sixth grade and finding his classmates in Japan are not friendly towards him. He attends an English group weekly for those living in Japan to continue using the English language. While out with Cora a fire occurs, and they wind up helping the police solve the mystery. Josh calls his school the Dragon's Mouth since it historically was attached to the temple with that name. School is not a happy place for him due to severe bullying: physical, verbal, social, and also destruction of property. The bullying continues to get worse, but thankfully his sister is key to saving him as a result of the "choking game." After the story, a glossary of terms is included along with a detailed explanation cultural elements and ending with resources. THOUGHTS: The novel is unique not only in writing style of free verse  but also content. Readers are reminded to speak up regarding bullying whether they are the victim, witness, or bystander.
Realistic Fiction, Novel in Verse        Beth McGuire, Wendover Middle School
Kinney, Jeff. Diary of a Wimpy Kid: Double Down. New York: Amulet Books, 2016. 978-1-4197-2593-7. 217 p. $14.00. Gr. 3-6.
Jeff Kinney's done it again! Greg Heffley returns with a fresh set of middle school troubles, from his mom believing that he needs to lay off the video games to the town being home to a flock of overly aggressive geese.  Halloween is coming up and Greg wants to be invited to the best party in town hosted by a girl in the band. In order to bump up his chances of an invite, Greg decides to start playing the French horn but quickly realizes he's no musician. His band career ends with his mom taking over the Halloween party with her Family Frolic magazine holiday games and Rowley coloring his underwear black to cover a rip in his pants which he gained trying to open the locked stage door on concert night. As always, Greg's ridiculous exploits will earn tons of laughs, and kids and adults alike will appreciate Kinney's excellent ability to build in elements found in every school. One of my favorites this year is Greg's visit to the school book fair where he buys a cat poster, an animal eraser, a glow-in-the-dark calculator, and more…but no books. He finally trades it all in for a set of "Spinetinglers" books. Any school librarian can relate, and kids will too. THOUGHTS: Another hilarious offering in the life of Greg Heffley.
Realistic Fiction; Humor   Lindsey Long, Nye & Conewago Elementary Schools