Seeger, Laura Vaccaro. I Used To Be Afraid. New York: Roaring Brook, 2016. 978-1-59643-631-2. $17.99. Gr. PreK-1st.
Laura Vaccaro Seeger touches on a topic that is common throughout childhood: finding ways to overcome fear. This can be a big deal to kids. The main character goes from scary animals (like spiders) to larger, more abstract fears like being alone or moving. Using bold images and creative cut-outs, Seeger gives examples of how not to be afraid. A humorous ending about brothers will make readers smile. Perfect for the youngest audience, for whom hearing unexplained noises in the dark is a daily occurrence.  Thoughts: This book is perfect for PreKindergarten and Kindergarten! I use it as a fun read aloud, and recommend it to parents who are struggling with fearful children.
Picture Book       Emily Woodward, The Baldwin School
Yoon, Salina. Penguin's Christmas Wish. New York: Bloomsbury, 2016. 978-1-68119-155-3. Unpaged. $14.95. Gr. PreK-2.
Penguin and his family are ready to celebrate Christmas, but when Pumpkin longs for a Christmas tree, Penguin decides to lead his family into the forest to find an old friend. They find Pinecone, now a beautiful evergreen tree (read Penguin and Pinecone, 2012), and decorate him with ornaments and presents under the tree. That night they all dream of something different while a blizzard rages in the forest and takes away all the decorations and ornaments. While they are disappointed, Grandpa reminds them that celebrating Christmas is "…about being with the ones you love." They make the best of the day and all their wishes come true when Penguin makes them perfect gifts from sticks and twigs. Penguin's wish doesn't come true until the end of the story when the sun melts the snow and the family discovers that the blizzard spread the ornaments and gifts throughout the forest so they can celebrate with new forest friends. THOUGHTS: Salina Yoon's sweet Penguin is sure to delight fans of the series or new readers in this simple holiday tale.
Picture book      Lindsey Long, Nye & Conewago Elementary Schools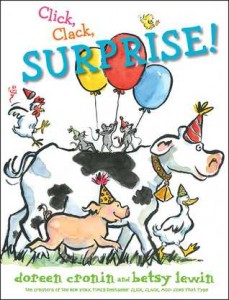 Cronin, Doreen and Betsy Lewin. Click, Clack, Surprise! New York: Atheneum Books for Young Readers, 2016. 978-1-4814-7031-5. 32pp. $17.99. Gr K-3.
In the latest addition to the Click, Clack, Moo series, it's Little Duck's first birthday, and the whole farm is preparing for the celebration. Little Duck has never gotten ready for a party, though, and she doesn't know quite what to do. So, she tries copying everyone else! She takes a long, hot bubble bath like Duck, shears her feathers like the sheep, licks herself like the cat, takes a dust bath like the chickens, and takes a mud bath like the pigs. By the time she ends up at her party, she's wet, has spiky feathers, and is covered in dust and mud; it's truly a birthday surprise for everyone! Betsy Lewin's loose pen, ink, and watercolor illustrations perfectly capture the lighthearted spirit of the day, and young readers will enjoy seeing their favorite farm animals- and Farmer Brown too – getting ready for the party. This is a fun addition for elementary collections. THOUGHTS: This book will be a hit where other titles in the series are popular. It will also be useful as a read-aloud to complement a unit about farms and farm animals.
Picture Book      Anne Bozievich, Friendship Elementary, Southern York County
Pak, Kenard. Goodbye Summer, Hello Autumn. New York: Henry Holt and Company, 2016. 978-1-62779-415-2. 32pp. $15.34. Gr K-3.
This gentle nature story perfectly captures the transition from summer to autumn. One late summer morning, a girl leaves her house and begins walking through the forest to town. On her way, she greets the trees, animals, insects, flowers, and wind she encounters. Each time, her greeting is returned, and information about the changing season is shared. For example, when she calls, "Hello, beavers. Hello, chipmunks," they reply, "Hello! We have no time to play because we're making cozy nests and dens. It will be cold soon, and we want to get ready." As she walks, the little girl is accompanied by a giant Great Dane, a blue jay, and a butterfly, and readers will enjoy spotting them on each double-page spread. On each spread, the vibrant watercolor and pencil illustrations perfectly capture the transition between seasons. As the story progresses, the colors slowly transition from mostly greens to browns, reds, and burnt oranges. Careful readers will notice subtle details in the illustrations such as animals tucking into their burrows, leaves changing color, and the girl distributing a fistful of wildflowers she's plucked along her walk. This is a book that warrants repeated readings to fully appreciate all the subtle details. THOUGHTS: This title is a perfect addition to fall-themed story times. My kindergarten teachers were excited to add it to their units about autumn and how animals prepare for winter.
Picture Book      Anne Bozievich, Friendship Elementary, Southern York County