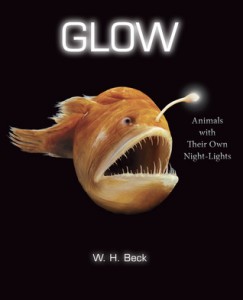 Beck, W. H. Glow: Animals with Their Own Night-Lights. New York: Houghton Mifflin Harcourt, 2016. 978-0-544-41666-6. $17.99. Gr. 1-3.
This book is a must for any elementary library! With vivid, detailed photographs of animals and some plants, Glow explains to children what bioluminescence is. Discussing some land creatures, but mostly focusing on aquatic life, this book gives scientific information, but explains it in such a way that children will not find it overwhelming. It also gives reasons why these animals might use bioluminescence. The main story is told in larger font for younger children, and if the students want more in-depth information smaller lettering on each page gives specific animal names and details. At the end of the book there is additional information, including the actual size of these life forms (many of which are tiny) and where they live. A bibliography gives more information for those children left wanting to learn more. THOUGHTS: As someone always looking for eye-catching non-fiction books, I loved this book! It's a perfect read-aloud for grades K-4 and also provides a great introduction for science curricula. A few of the pictures might be intimidating to some younger, more squeamish children, but 1st grade and up are fine.
572; Animals   Emily Woodward, The Baldwin School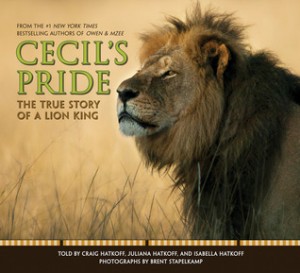 Hatkoff, Craig. Cecil's Pride: The True Story of a Lion King. New York: Scholastic, 2016. 978-1338-034455. $17.99. unpaged. Gr. 1-5.
Craig Hatkoff and his two daughters add to their Turtle Pond Publications which began with the popular Owen and Mzee.  In this title, they focus on Cecil, the black-mane lion of Hwange National Park in Zimbabwe.  Cecil gained worldwide attention when he was lured out of the Park to be hunted and killed by an American dentist and hunter.  This event is never mentioned here. "Everyone knew how Cecil died. We would tell the story of how Cecil lived." And so, readers learn of how Cecil's life was watched by wildlife researcher Brent Stapelkamp, and how he and Jericho, another male lion, had uncharacteristically led a pride of lions together without rivalry.  Upon Cecil's death, Jericho appeared to search for Cecil. Brent worried that Jericho would kill Cecil's cubs, a common lion practice with the rise of a new leader.  Instead, Jericho became the cub's protector, and the cubs are now thriving in Jericho's pride. THOUGHTS: This book beautifully showcases Cecil's life with full-color photographs of his cubs, his pride, and of course, Jericho.  The text is more suited to slightly older students, who will also embrace these beautiful lions and the species conservation plea.  Use this as a read-aloud, or as a starter or centerpiece for the study of endangered species.  Many students will be drawn to the wildlife researcher's efforts and they will be moved by the amazing story shared.
599.7; Lions     Melissa Scott, Shenango High School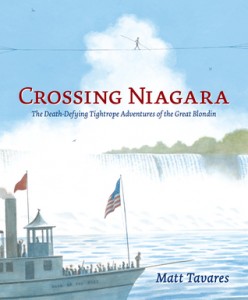 Tavares, Matt. Crossing Niagara: The Death-Defying Tightrope Adventures of the Great Blondin. Somerville: Candlewick Press, 2016. 978-0-7636-6823-5. Unpaged. $17.99. Gr. 2-5.
Jean Francois Gravelet began his tightrope-walking career at the tender age of 5 as a circus performer. His fame grew as the years passed, and soon he was known worldwide as the Great Blondin. After a visit to Niagara Falls, he decided that he wanted to cross the famous landmark in the best way he knew—on a tightrope. While other acrobats laughed, he knew that he could do it and he did; not just once, but numerous times during the summers of 1859 and 1860. He even incorporated fancy tricks and walked with a man on his back! This short biography is sure to thrill readers of all ages. Tavares' illustrations showcase Blondin's death-defying tricks and the beautiful landscape of Niagara. The book contains an Author's Note and bibliography. THOUGHTS: An interesting, exciting nonfiction read-aloud for all elementary ages. Pair this book with Mordicai Gerstein's "The Man Who Walked Between the Towers" or Chris Van Allsburg's "The Queen of the Falls" for two different kinds of adventure-filled story times.
791.34       Lindsey Long, Nye & Conewago Elementary Schools