Leonard, M.G. Beetle Boy. New York: Scholastic, 2016. 978-0-545-85346-0. 270 p. $16.99. Gr. 5-8.
Darkus is sure that his father would not abandon him, but his father is missing nonetheless. As he lives with his uncle and navigates bullies at school, Darkus makes two good friends in Virginia and Bertolt. With his friends, Darkus sets off on a dangerous mission to protect special beetles and find his father. The villain, Lucretia Cutter, an avant garde designer and scientist studying beetles, could be a fiction best friend of Dodie Smith's Cruella de Vil from The Hundred and One Dalmatians. At the end of the novel suspense is high as the villain escapes leaving an opening for the next book in the series. Included for readers, following the story, is an insect related dictionary.  THOUGHTS: It might be a good idea to ask students who have ever had a pet beetle to get their attention and then promote this novel. An ideal read-a-like is the book In Search of Goliathus Hercules, a book that I reviewed for PSLA in March 2014 – http://pslamediaselectionreview.edublogs.org/2014/03/01/march-2014-bob-fiction-reviews/.
Adventure; Mystery       Beth McGuire, Wendover Middle School
Osborne, William. Winter's Bullet. New York: Chicken House, 2016. 978-0545- 853446. $18.99. 221 pp. Gr. 5-8.
Fifteen-year old Tygo Winter is brave but alone since his Dutch parents were killed and his older sister was taken away (and likely dead). He is hated and hunted by the Resistance for his work for Oberst Kruger, chief of the Gestapo's "Plunder Squad" of Amsterdam. The Nazis use the ruse of "safekeeping" to loot valuables from Dutch homes, but Tygo has no choice in the matter. His expert locksmith father had worked for Kruger rather than watch his family be killed. Now it's Tygo's turn, and the Resistance may kill him as they did his father. Kruger has fittingly named him "Frettchen" (ferret) and keeps careful tabs on everything Tygo does, says, or thinks. While searching yet another Dutch home, Tygo finds a girl hiding in the chimney. He keeps the knowledge to himself (or so he thinks) but returns when he realizes who she is and what she may have: the "Red Queen" diamond that Kruger wants for Hitler himself. Meanwhile, Tygo learns of a secret weapon Hitler has commissioned, a weapon that can destroy New York City. All of this comes together in the last days of the war, and Tygo is an important part of it all. THOUGHTS: This offers a look at an important time in World War II history, the gains and losses of the final days of the war. Tygo's desperate situation sheds light on the Plunder Squad, the Resistance movement, the atomic bomb, and Argentina's support of the Nazis. Readers get to know Tygo, but only scratch the surface with other characters, despite Osborne's occasional narrative switch from Tygo to Kruger or Heinrich Muller. The fact that Osborne has long been a screenwriter explains the fact that this novel reads like a movie. Despite this, middle school readers will be drawn to the topic and enjoy the action.
Historical Fiction      Melissa Scott, Shenango High School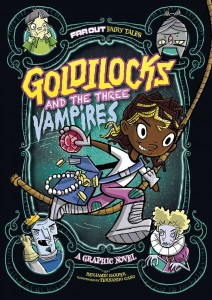 Sutton, Laurie, and C. S. Jennings. Goldilocks and the Three Vampires: A Graphic Novel. North Mankato, MN: Stone Arch , 2017. 978-1-4965-3783-6.  33 pp. $17.99. Gr 3-6.
This isn't your grandparents version of Goldilocks, but it sure makes for an interesting adventure! In the Far Out Fairy tale, we find the spunky, dark skinned Goldi acting more like a tomb raider than a nosy porridge eater. She is searching for King Arthur's treasure and cherishes the traps and tricks that await her. Finding three treasure rooms, Goldi begins to borrow some items when she hears some surprising voices just waking up from the dead. The vampires are historical, somewhat hysterical, and only slightly evil as they chase Goldilocks away. Though she certainly hasn't learned her lesson, with more adventures likely ahead.  THOUGHTS: I think it's worth getting the whole Far Out Fairy tale series for the crazy hybrid comparisons to the originals. The end pages after the story are also valuable, as they include the original tale and comparison to the new twist, plus some great visual questions and a glossary.
Graphic Novel; Fairytale       Dustin Brackbill, State College Area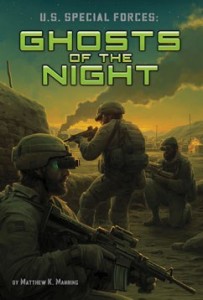 Manning, Matthew K., and Jeremy Enecio. U.S. Special Forces: Ghosts of the Night. North Mankato, MN: Stone Arch,  2017. 978-1-4965-3475-0.  90 pp. $17.99. Gr 4-7.
Go behind a special ops mission in Afghanistan with this realistic military adventure. The story starts out of sequence, with the special forces team and its rescued reporters trapped in a possibly haunted house. Then, through various viewpoints, readers learn brief backstories and see the action unravel. There are several moments to consider military decisions and realize the danger and threats which affect soldiers and civilians every day in war zones. This eye opening narrative will end too quickly, with many unanswered questions for readers to ponder and discuss. THOUGHTS: There are nonfiction texts from Capstone to connect those who want more information. Also, readers and librarians should realize that there are casualties in this book. While not graphic, and fortunately glossed over, a pilot, a soldier, and several combatants are killed in action. Still, this story is a fair way to bring those realizations to life for early chapter book readers.
Action/Adventure; Military     Dustin Brackbill, State College Area