Savit, Gavriel. Anna and the Swallow Man. New York: Alfred A. Knopf, 2016.  978-0-553-51334-9. 232 pp.  $17.99.  Gr. 8 and up.
On November 6, 1939, when Anna Lania is just seven years old, her father, a linguistics professor at Jagiellonian University in Krakow, leaves her in the care of a family friend to go into work for a meeting called by the Gestapo.  He does not return.  When the family friend refuses to let Anna stay with him, she convinces a tall stranger, hereafter referred to as the Swallow Man, to let her follow him through the wilderness for the next several years.  Throughout their time together, the two will cross paths with soldiers (both live and dead), meet new friends, and make brief trips into more populated centers in search of food and supplies.  The Swallow Man will teach Anna the ins and outs of the wilderness and tell her stories that explain the realities of the dangerous world they are living in.  Above all else, the bond that Anna and the Swallow Man share will reaffirm faith in the human spirit during a dark period in human history. THOUGHTS:  This would be an excellent title for a cross-curricular unit.  The Swallow Man's stories are very allegorical and could spark discussions in English classes, while the setting and characters could spark discussions about WWII and its impact on various populations in history classes.  I think older, more mature readers would get more out of the book, as some of the Swallow Man's stories are open to interpretation, and some of the topics are heavy.  Recommend this book to fans of The Book Thief or The Boy in the Striped Pajamas.
Historical Fiction       Julie Ritter, Montoursville Area High School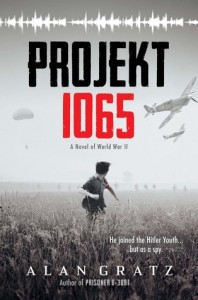 Gratz, Alan. Projekt 1065: A Novel of World War II. New York: Scholastic, 2016. 978-0545-80169. $16.99. 320 pp. Gr. 5-12.
It's 1943, and World War II is raging. The last place any Allied supporter would want to be is Berlin, Germany. But that's exactly where Irish teenager Michael O'Shaunessey lives with his parents, since his father serves as Ireland's ambassador to Germany. Ireland is officially neutral, but Michael and his parents are working as spies. While Michael is seeking insider information (and trying to choke down Nazi propaganda, book burnings, and more), he learns of the secret "Projekt 1065" (the Nazis' plans to build jet-propelled airplanes) and a Hitler Youth connection that he could use to get that information. Then, while outdoors for Hitler Youth training, a British bomber is shot down nearby. It is Michael who finds the pilot and Michael's parents who hide him in the Embassy. The pressure is high for Michael, and the question comes down to: what is one person willing to sacrifice for the freedom of many others?  THOUGHTS: Gratz has written a fantastic blend of history, action and suspense that is perfect for middle and high school readers. First person narration provides Michael's thoughts and fears as he struggles to know when to speak and when to stay silent. Gratz smoothly interweaves German terms, the Edelweiss Pirates, special Hitler Youth teams called SRD, and tons of Nazi propaganda, so that we feel the tension in all of Berlin. Highly recommended for middle and high school collections.
Historical Fiction      Melissa Scott, Shenango High School
Hesse, Monica. Girl in the Blue Coat. Boston: Little, Brown and Company. 2016. 978-0-316-31586-9. 301 pp. $17.99. Gr. 8 and up.
Hanneke Bakker is very good at finding things. In 1943 Amsterdam, it's not so easy to find goods like coffee, sausages, and cigarettes, so Hanneke purchases them with ration coupons procured through her undertaker boss and delivers them to paying customers across the city. It's dangerous work, but it keeps her non-Jewish family fed and relatively secure. Then one client makes an unusual request for help locating a missing Jewish girl. Still grieving the loss of her boyfriend on the Dutch front, Hanneke is reluctantly pulled into the search for Mirjam and a broader resistance movement. She soon comes face-to-face with the grim realities facing the country's onderduikers (hidden Jews). THOUGHTS: This is a truly absorbing coming-of-age mystery set against the fraught backdrop of the Nazi-occupied Netherlands. It has a compelling hook for booktalks and would be an excellent recommendation for readers of Elizabeth Wein's historical fiction.
Historical Fiction (World War II)       Amy V. Pickett, Ridley High School Library
Kirkus published an interview with Monica Hesse about the inspiration behind Girl in the Blue Coat in April of 2016: https://www.kirkusreviews.com/features/monica-hesse/