This or That? Weather series. North Mankato: ABDO, 2016. $17.95 each. 24 p. Gr. K-3.
Doudna, Kelly. Cloud or Fog? 978-1-62403-953-9.
Doudna, Kelly. Tidal Wave or Tsunami? 978-1-62403-956-0.
Doudna, Kelly. Winter Storm or Blizzard? 978-1-62403-958-4.
Plattner, Josh. Hail or Freezing Rain? 978-1-62403-954-6.
Plattner, Josh. Hurricane or Waterspout? 978-1-62403-955-3.
Plattner, Josh. Tornado or Dust Devil? 978-1-62403-957-7.
This series seeks to help children identify the differences between similar kinds of weather, such as hail and freezing rain or hurricanes and waterspouts. The text is structured so that the two kinds of weather are compared on each two-page spread. For example, the first two pages of "Hail or Freezing Rain?" compares the two by saying "Hail falls from the sky. It is ice. It freezes before it lands," on page 4, while page 5 says "Freezing rain falls from the sky. It is water. It freezes after it lands." The books have several large, colorful photographs of each kind of weather to help demonstrate the concepts on each page. This series would work both as an introduction to various kinds of weather and as a simple mentor text for comparing facts on two similar things. The text is easy to read and understand and some text features add extra information. Each title has a Table of Contents, a glossary, an "At a Glance" chart comparing the two types of weather, and an experiment to help demonstrate how one kind of weather forms or works. THOUGHTS: A serviceable addition to the realm of easy nonfiction weather books. The strength here is the comparison feature of two items.
551.5; Weather; Science      Lindsey Long, Nye & Conewago Elementary Schools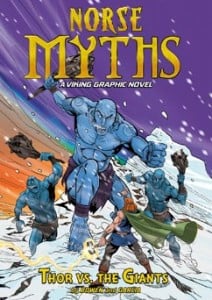 Bowen, Carl, and Eduardo Garcia. Thor vs. the Giants: A Viking Graphic Novel. North Mankato, MN: Stone Arch , 2017. 978-1-4965-3487-3.  55 pp. $20.99. Gr 3-6.
Norse Mythology may not be quite as commonly known as its Greek, Roman, and Egyptian relatives, but a certain Norse superhero has been slowly changing that. This unique graphic novel brings the style of Marvel's Thor into the ancient Norse world where gods and giants were constantly at war. Told through the eye of Odin, the readers see three myths come to life in short order. There is plenty of trickery, jealousy, humor and violence in the graphic tales, but nothing too over the top. The active illustrations and fast paced story will catch plenty of new fans.  THOUGHTS: Try these, and then compare them to other versions, or even to the Marvel version of Thor. Hopefully this collection makes for natural extensions, from Riordan's work to classic mythology.
Graphic Novel; Mythology     Dustin Brackbill, State College Area