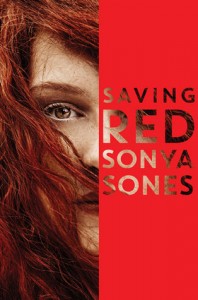 Sones, Sonya. Saving Red. New York: HarperTeen. 2016. 978-0-06-237028-0. 440 pp. $17.99. Gr. 7 and up.
Nothing has been quite right in fourteen-year old Molly's world since her older brother, Noah, disappeared a year ago. Her distant father is always at work, her mother abuses her medical marijuana prescription, and she battles frequent anxiety attacks with the help of her therapy dog, Pixel. While completing a service requirement for school, Molly meets an older homeless girl named Red. She makes it her mission to reunite Red with her family before the fast-approaching Christmas holiday. But even with the help of a cute new friend named Cristo, Molly soon realizes that all of her best intentions may fall short: Red's eccentricities are actually the symptoms of schizoaffective disorder, for which she refuses medication. THOUGHTS: This engagingly earnest novel-in-verse tackles some tough topics with a light touch and a refreshing innocence. The reason for Noah's absence lends a hint of mystery to the narrative. Saving Red would be a good choice for future fans of When We Collided by Emery Lord.
Realistic Fiction; Novel in Verse    Amy V. Pickett, Ridley HS
Author Sonya Sones includes in her Author's Note an annotated list of resources for readers who face challenges such as homelessness, hunger, illness, and mental health issues.