Bagley, Jessixa. Before I Leave. New York: Roaring Brook Press, 2016. 978-1-62672-040-4. $17.99 PreK-2nd Grade.
By the author of Boats for Papa comes another gentle book to help children. Little hedgehog's family is moving away, but she doesn't want to leave her best friend. Refusing to go doesn't work, so her friend tries to help her pack. Instead of concentration on their task, these two friends end up doing all their favorite things. When little hedgehog moves into her new house and goes to unpack she discovers pictures and letters from her anteater best friend. THOUGHTS: A heart-warming way to express to children that change does not mean the end of friendships.
Picture Book       Emily Woodward, The Baldwin School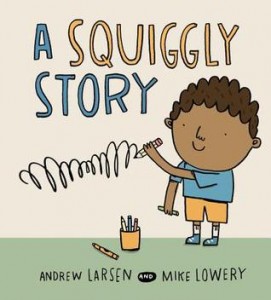 Larsen, Andrew. A Squiggly Story. Tonawanda, NY: Kids Can Press, 2016. 978-1-77138-016-4. Unpaged. $16.95. Gr. PreK-2.
A young boy wants to write a story, but he doesn't know many words.  After receiving some encouragement from his sister, he begins by writing down letters and shapes that he does know, and before long, he has crafted a creative tale in which he and his sister are playing soccer on the beach.  When he shares his story with his class for show-and-tell, they suggest several creative endings for the story, but the protagonist has his own ending in mind.  Graphic novel-like illustrations, complete with speech bubbles and boxes on some pages, add to the book's accessibility and appeal.  THOUGHTS: This playful tale is a great resource for young students learning about the parts of a story (beginning, middle, and end) and anyone looking for strategies for overcoming writer's block.  It can also encourage brainstorming and creative thinking, as students can be prompted to come up with endings of their own for the boy's story.  The varied skin colors of the children in the protagonist's class give this book a multicultural dimension.
Picture Book     Julie Ritter, Montoursville Area High School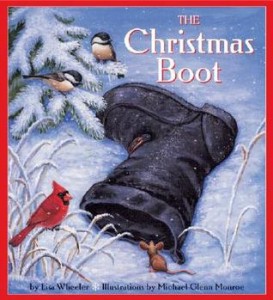 Wheeler, Lisa. The Christmas Boot. New York: Dial Books for Young Readers, 2016. 978-0-8037-4134-8. Unpaged. $17.99. Gr. K-3.
Hannah, an old woman who lives in a cabin in the woods, is gathering firewood when she spots a single boot laying in the snow. When she puts it on to warm her cold foot, it magically becomes a perfect fit for her, and she takes it home where she wishes for its mate. The next morning, she finds a pair of boots next to her bed, and later on she wishes for a pair of warm mittens and a fancy house and feast. She loves the boots and mittens but feels that the house doesn't quite "fit" the way she'd hoped. Santa comes calling, looking for his missing boot, and Hannah offers it up at once, saying that it doesn't belong to her anyway. Immediately the other boot, mittens, and house are no more. Santa offers Hannah whatever she truly desires. She replies that she really wants someone to talk to but warm boots and mittens would be fine. Suddenly, Hannah is rewarded with fine new boots and mittens…and a small puppy hiding in one of the boots, ready to be Hannah's new friend. THOUGHTS: A beautiful story of gratitude and kindness that works well for the holidays and is highlighted by Jerry Pinkney's gorgeous illustrations.
Picture book Lindsey Long, Nye & Conewago Elementary Schools