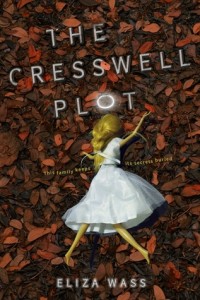 Wass, Eliza. The Cresswell Plot. Los Angeles: Disney Hyperion, 2016. 9781484730430. 262pp. $17.99. Gr. 9 and up.
The six Cresswell siblings live with their parents in a run down house in the woods and make their living trash picking junk to fix up and sell at local flea markets. Homeschooled by their fanatically religious parents, the siblings live an isolated and cloistered life. Their father tells them they are the only "pure" humans left on earth, expected to marry each other to preserve their bloodline.  After an accident causes the  authorities to check on the welfare of the children, they begin attending public school. Their unusual lifestyle keeps them separate from their peers, and they are viewed as freaks. When 17 year-old Castellla (Castley) begins her junior year, she meets a boy in her drama class who reaches out to her. Being with George opens her up to friendship and romance and to the possibility of a normal life.  She and her siblings start questioning what they have always believed to be the absolute truth and to test the rules and demands their father has placed on them. But, their father holds the family in the grip of fear and religious fervor, and Castley worries they may never be able to break free.   THOUGHTS: A disturbing and creepy thriller for older teens who appreciate edgier reading .
Realistic Fiction    Nancy Summers, Abington SHS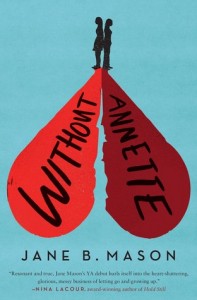 Mason, Jane B. Without Annette. New York: Scholastic Press, 2016. 978-0545819954. 336 p. $18.99. Gr. 9 and up.
This is the first young adult book I have read with a lesbian couple as the main protagonists, and Jane B. Mason did a fine job of describing the lives of these young girls and the unique challenges they face as lovers in the world of teenagers. Josie, the narrator, and her best friend and girlfriend, Annette, receive scholarships to attend an exclusive boarding school. Josie sees it as a way to help Annette escape from her alcoholic and abusive mother. From the beginning, Annette seems to fit right in while Josie flounders in her classes and in the social scene. She literally stumbles into a friendship with classmate Penn, and joins him and his crew in exploring the tunnels that snake underground all over campus. Josie and Annette try to keep their relationship a secret, yet Josie watches helplessly as Annette is drawn into a world of drinking and binging, egged on by her roommate. The characters are authentic and the story is unique but can be slow at times and Josie is not the most reliable narrator. I would have liked to hear the perspectives of others in the school and especially Annette, but it is a powerful story of realizing who you are or want to be,  and how this can affect your life and relationships. THOUGHTS: This title is a necessary addition to any high school collection for LGTBQ youth.
Realistic Fiction      Lindsey Myers, Shady Side Academy Senior School
This is an interesting title, and one that will appeal to students struggling with defining themselves in the world of adolescents. I do look forward to future titles from this author, as she does bring a unique perspective to the YA world.
Yoon, Nicola. The Sun is Also a Star. New York: Delacourte Press, 2016. 978-0553496680. 384 p. $18.99. Gr. 9 and up.
Nicola Yoon impressed me with her first novel, Everything, Everything, and has truly knocked it out of the park with her most recent publication for young adults, The Sun is Also a Star. The story tells a day in the life of two characters, but Yoon incorporates other perspectives and stories throughout the novel, and this enables the story to rise above the general YA novels that highlight the give and take between two young people falling in love. The story begins with Natasha, whose family is to be deported to Jamaica after being caught as undocumented immigrants. Natasha, a lover of science, facts, and figures, is determined to do all she can to stay in the home she has known since arriving in the States 8 years ago. The second protagonist is Daniel, who yearns to be a poet, but whose Korean-immigrant parents insist that he become a doctor. He is on his way to interview with a Yale alumni when he sees Natasha walking down the street. The two end up spending the day together and trying to navigate their different worlds and Natasha's impending deportation. Again, the perspectives and asides that Yoon includes, ranging from a chapter about a lonely security card to a short history of black hair, force the reader to acknowledge the silent stories and history going on all around as we live our own separate lives. THOUGHTS: This should be in all high school libraries, and would be an excellent choice for summer reading or book club discussions.
Realistic Fiction      Lindsey Myers, Shady Side Academy Senior School
I absolutely LOVED this book, and will be recommending it to every student I can in the coming weeks and months. The variety of perspectives, the beautiful writing, and the well-drawn characters make it a novel to savor and read again and again. The plot touches upon many current issues in our society, and encourages the development and understanding of empathy in teens, and, really, anyone who reads it. I am going to suggest it as a summer reading title for next year, and cannot wait to discuss it with a group of adolescents.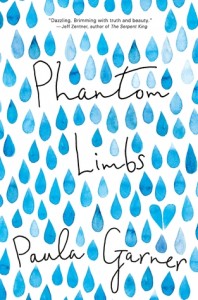 Garner, Paula. Phantom Limbs. Somerville, MA: Candlewick Press, 2016. 978-0-7636-8205-7. 352 pp. $16.99. Gr. 9 and up.
"There was life before you, and then life with you. There wasn't supposed to be life after you." This haunting sentiment is at the emotional core of Paula Garner's outstanding debut, Phantom Limbs. Sixteen-year old Otis Mueller has had to say his share of tough goodbyes. His beloved younger brother, Mason, passed away several years ago at the young age of three, and Otis has shielded himself from the painful details ever since. His first love, the girl-next-door Meg (in whose room Mason was napping at the time of his death), moved away and out of Otis' life soon after. Otis found an outlet for his grief and loneliness in competitive swimming. He also found a coach and big sister figure in Dara, an amputee whose phantom limb pains and thwarted swimming career haunt her daily. But just as Dara is ramping up Otis' training regimen for a run at the Olympic trials, Meg contacts him to say she's coming home for a three-week visit. Oh, and her new boyfriend will be joining her for a long weekend with Otis and his parents at the Mueller family lake house. The trip is a-w-k-w-a-r-d, and also a catalyst for Otis to acknowledge his true loyalties and for Meg to reveal her secret pain. THOUGHTS: Phantom Limbs hits all the right coming-of-age notes with humor, heart, indelible moments, and a realistically imperfect protagonist.
Realistic Fiction      Amy V. Pickett, Ridley High School Library