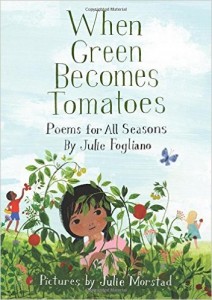 Fogliano, Julie. When Green Becomes Tomatoes: Poems for All Seasons. New York: Roaring Brook Press, 2016. 978-1-59643-852-1. 56pp. $18.99. Gr K-4.
This collection of free verse seasonal poetry begins on March 20 with the vernal equinox and continues through the year, celebrating the small moments each new season brings. From welcoming spring's first flowers to tasting summer's sweet berries to pulling out autumn's first sweater, young readers will relate to many of the everyday seasonal pastimes the children in this story experience. The book's beautiful gouache and pencil illustrations feature diverse children engaging in timeless activities such as picking flowers in a field, eating sandwiches at the beach, stargazing, jumping in leaf piles, building snowmen, and reading by the fire. The poems are formatted like journal entries, and each poem begins with the date so readers can easily track the passing seasons.  THOUGHTS: This title will be a valuable addition to poetry collections. The conversational tone and relatable illustrations will hook young readers, and teachers will be able to use this as a journal-writing resource.
Poetry Picture Book      Anne Bozievich, Friendship Elementary, Southern York County
Woollvin, Bethan. Little Red. Atlanta: Peachtree Publishers, 2016. 978-1-56145-917-9. 28pp. $16.95. Gr K-3.
Girl power is at the core of debut picture book author and illustrator Bethan Woollvin's retelling of the classic Little Red Riding Hood fairy tale. Many details ring true from previous versions of the story: Little Red takes a basket of cakes to her sick grandmother; she meets a wolf along the way, and the wolf runs ahead to grandma's house, eats her, and poses as grandma instead. In this retelling, however, Little Red is not fooled by the wolf's poor disguise. When she spots the wolf in grandma's bed, she makes a plan before going inside. Bringing along an ax that was stuck in a stump outside grandma's door, Little Red takes care of the wolf herself. She then returns home not in her red cape but wearing a new wolf-skin and sporting a smile for the first time in the story. The text in this book is sparse, but the bold gouache illustrations pack quite a punch thanks to the tight palette of only red, black, white, and gray. THOUGHTS:  Some oversized illustrations bleed across the book's gutter, further heightening their impact. No blood appears in this story, and Woollvin only hints at the wolf's fate by showing an extreme close-up of Little Red's eyes shifted in the wolf's direction; it is up to readers to fill in the blanks.  
Picture Book     Anne Bozievich, Friendship Elementary, Southern York County
I'm looking forward to sharing this title with my third-grade teachers later this spring when they study their fairy tale unit. It will be a great title to compare and contrast against the original version.