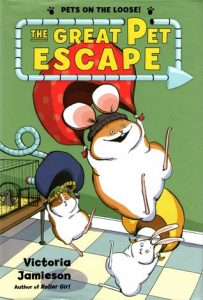 Jamieson, Victoria. The Great Pet Escape (Pets on the Loose Series). New York: Henry Holt and Company, 2016. 978-1-62779-105-2. 63 pp. $7.99. Gr. 2-5.
There has been a break out at Daisy P. Flugelhorn Elementary!  G.W. , the second grade pet hamster has finally succeeded in breaking out of his "prison" and is now in search of his long lost friends Biter and Barry who came into this school with him.  Together they were the Furry Fiends.  But when G.W. (short for George Washington) finds his friends, they've changed.  They are no longer rough and tough.  Biter has changed his name to Sunflower and has learned all about feelings and sharing in his Kindergarten room.  Barry is enjoying story time in first grade.   GW is sad to find his friends so changed, but together they must team up to defeat Harriet, the evil fourth grade pet mouse and her minions.  In this fun, graphic novel style book, kids will enjoy the adventure and fun of this trio who fight to defeat the bully of the school.  Written and illustrated by the author of the award winning Roller Girl, this book is sure to "escape" from the library shelves regularly!  THOUGHTS:  A perfect choice for the reluctant reader!  The colorful graphics will rope them in, but the great vocabulary and fun antics will keep them reading and growing as readers.  This may also be a good discussion starter about bullying, since the bully of the story plays a main part as they problem solve to defeat her.
Early Reader Graphic Novel      Donna Fernandez, Calvary Christian Academy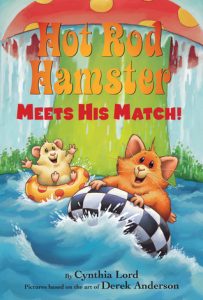 Lord, Cynthia. Hot Rod Hamster Meets His Match. New York: Scholastic, 2016. 978-0-545-82592-4. 32 pp. $16.99. Gr. K-2.
In this episode, Hot Rod Hamster meets an adventurous girl hamster named Holly.  They work together to try to win the race down the water slide and beat the mean dogs from the park.  This early reader series by the author of Rules is perfect for the beginning reader.  The word bubbles and colorful graphics will attract the reluctant reader.  The repetition and simple sight words will give them a sense of accomplishment as they read independently.  Along the way, the reader is given choices to make "Grape pop. Fudge pop. Punch pop. Crunch pop. Which would you choose?" This adds another layer of fun and repetition to the text.  THOUGHTS:  This new early reader series will give emerging readers success as they find sight words and lots of simple sentences to help them develop a love of reading.   This series is a great addition to an early reader basket of fiction books in a kindergarten through second grade class.
Early Reader     Donna Fernandez, Calvary Christian Academy
Gold, Gina. Minnie Hocus Bow-cus. New York: Hyperion, 2016. 978-1-61479-363-2. 32pp. $10.99. Gr. K-1.
Minnie's Bow-tique is having a sale.  To bring in customers, they decide to have a magic show starring the great Penguini! Millie and Melody Mouse are going to assist him.  But when Penguini disappears, Melody and Millie try to take over the show, and things begin to go wrong.  This illustrated early reader from Disney Hyperion is a colorful and attractive selection for the emerging reader in Pre-K to Grade 1. The familiar Minnie Mouse along with a cast of some new characters will appeal to the younger set.  The simple text and work repetition will provide early readers with success.  THOUGHTS:  This early reader is a great addition to any fiction reading basket.  Students will be drawn to the fun characters and simple text and hopefully discover the magic of reading for themselves!
Early Reader Fiction   Donna Fernandez, Calvary Christian Academy