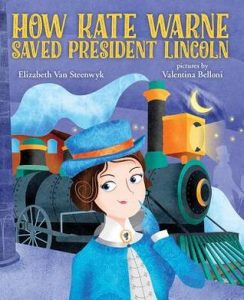 Van Steenwyk, Elizabeth. How Kate Warne Saved President Lincoln. Chicago: Albert Whitman and Company, 2016. 978-0-8075-4117-3. 32pp. $16.99. Gr. 2-4.
This historical picture book highlights the career of Kate Warne, America's first female detective. In 1856, Warne arrived in detective Allan Pinkerton's office looking for a job. Although Pinkerton had never before considered hiring a woman, Warne convinced him that a female would be able to obtain information in ways men couldn't. She spent her career attending society parties disguised as a wealthy socialite or sometimes as a fortune teller. Warne earned the trust of both men and women and then used the information she gained to help crack some of the nation's biggest cases. Her most important assignment involved exposing a plot to assassinate president-elect Abraham Lincoln on the way to his inauguration. Disguised as a wealthy southern woman, Warne infiltrated a group called the Golden Circle and verified the details of the plot against Lincoln. Her information was used to develop a plan that allowed a disguised Lincoln to secretly switch trains under the cover of darkness and arrive in Washington DC unharmed.  THOUGHTS: This title provides a fascinating look at how one woman shattered gender stereotypes and bravely left her mark on a formerly male-dominated profession. The story is told with enough suspense and intrigue to hold readers' attention, and it will be a welcome addition to women's history month celebrations and to Civil War units.
Picture Book     Anne Bozievich, Friendship Elementary, Southern York County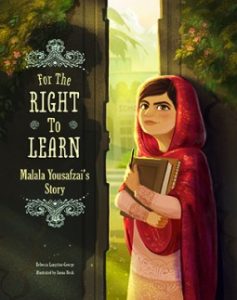 Langston-George, Rebecca. For the Right to Learn. North Mankato, MN: Capstone, 2016.     978-1-4914-6071-9. 40 pp. $16.99. Gr. 3-6.
In a small village in Pakistan, Malala Yousafzai attended school.  Her father was a teacher and felt that all children, even girls, should have the right to learn.  This was not the case everywhere in Pakistan.  In many places in that country, only boys were educated.  As the Taliban rose in power, they also condemned girls being educated.  The Taliban threatened the school leaders, including Malala's father, to stop allowing girls to come to school. Later, those who opposed the Taliban were bombed as warnings to others.  Malala secretly began to blog about her experiences with a reporter from the BBC.  Finally, a Taliban fighter boarded the school bus and shot Malala for her outspoken stance on education for all girls in Pakistan.  She recovered and gave a speech before the United Nations that propelled her to international fame.  She later won a Nobel Peace Prize for her courageous fight for the right to learn.  This vividly illustrated book is powerful and compelling.  The message that Malala shared is clear and precise.  The incident of the shooting is simply illustrated with a book and three small drops of blood on top of it.  While upsetting, students will be inspired by her persistence and perhaps encouraged to appreciate the gift of education that all children in America may take for granted.  THOUGHTS:  This book is a wonderful addition to a unit on children in the Middle East, human rights, or even an inspiration to students to find something that they are passionate about and act to make a change.
Picture Book Biography     Donna Fernandez, Calvary Christian Academy
Robbins, Dean. Two Friends: Susan B. Anthony and Frederick Douglass. New York: Orchard Books, 2016. 978-0-545-39996-8. 32pp. $17.99. Gr. K-4.
On a snowy afternoon, Susan B. Anthony is setting her table for tea. Two cups, two saucers, two slices of cake. She welcomes her friend Frederick Douglass, and the two sip tea by the fireplace, talking about their ideas for equal rights. This book centers on the real-life friendship these two activists shared and highlights similarities in their campaigns for women's rights and African American rights. Robbins uses parallel text, repeating the lines, "The right to live free. The right to vote. Some people had rights, while others had none. Why shouldn't he have them too?" as he describes each crusader's fight. A brief author's note provides additional background information about both Anthony and Douglass, and a bibliography offers suggestions for further reading. Mixed media illustrations feature paint, collage, and colored pencil. Swirling cursive script highlighting ideas Anthony and Douglass championed is woven into many spreads, adding to the book's vintage feel. Overall, this is an age-appropriate introduction to two civil rights contemporaries who respected each other's ideas and admired each other's resolve to fight for a better future.  THOUGHTS:  This is a valuable addition to social studies units about equal rights or women's suffrage. It could also be used to supplement a Civil War unit on emancipation or in celebration of Black History Month.
Picture Book    Anne Bozievich, Friendship Elementary, Southern York County