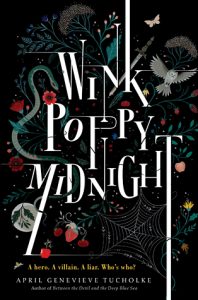 Tucholke, April Genevieve. Wink Poppy Midnight. New York: Dial Books, 2016. 978-0-8037-4048-8. $17.99. 247 pp. Gr. 9 and up.
A bit of fairy tale, lots of character study, and twists readers may not see coming, Wink Poppy Midnight looks at the interconnectedness of three very different characters.  Wink, lost in fairytales and caring for others, seems naive; lost to the world around her.  Midnight, a true teenage boy with teenage boy things on his mind, is torn between lust for one and growing love for another.  Poppy is cruel; the "mean girl" who leads a crew of followers to complete her bully status.  One is a hero; one a villain, and one a liar, but who can tell which is which.  With fairy tale associations and cruelty abound, Wink Poppy Midnight is reminiscent of J.K. Rowling's character study, A Casual Vacancy, and e. Lockhart's storytelling in We Were Liars.  THOUGHTS:  Not for the plot-driven reader, this novel is for the mature reader who understands the intricacies of character development and the importance of understanding a character in order to tell a story.
Realistic Fiction     Erin Parkinson, Beaver Area MS/HS
Much like when I read J.K. Rowling's A Casual Vacancy, I hated and understood the purpose of this novel while reading.  It took me forever to actually read the novel because I couldn't get into it.  I hated all of the characters and had no clue what Tucholke was trying to accomplish while reading it; yet, I couldn't actually stop reading it (even though it took almost two months to finish).  I truly don't know who I would recommend this title to, but it got starred reviews, so it must have an audience.  It is being compared to We Were Liars by e. Lockhart, and I understand why based on the writing style, but I got We Were Liars and understood what Lockhart was trying to do with the intersection of life, fairy tale, and loss.  I don't understand Tucholke here except to comment on the cruelty of human character and the idea that cruelty and kindness live in all of us.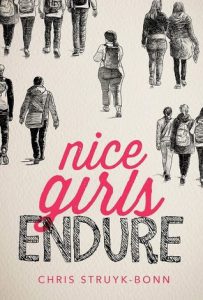 Struyk-Bonn, Chris. Nice Girls Endure.  North Mankato, MN; Switch Press, 2016. 978-1630790479. $16.95. 256 p. Gr. 9 and up.
Struyk-Bonn has succeeded in telling a realistic yet engaging and meaningful story about a young girl looking to find her place in a world that does not seem to want her. Chelsea Duvey has always been overweight, but, as usual, life seems worse now that she is in high school. She struggles to make friends because of her social anxiety and deals with constant bullying. She spends most of her time at home watching musicals with her father, singing along with all of the songs and forgetting her life for awhile. Her mother is not so understanding and tries to sign her up for weight-loss classes. One classmate in particular targets her for constant bullying, and after he assaults her at a dance and posts photos online, Chelsea becomes despondent and struggles to overcome depression and anxiety. She slowly makes friends in her film as literature class, and one girl in particular befriends her and shows that Chelsea can be who she is and still be loved. The inclusion of a therapist is helpful, but the use of anxiety medication could have been better employed and resolved at the end. The depiction of the adults is fairly realistic, as they are given their own flaws and faults to manage. THOUGHTS: This is a good read for teenagers needing a story of strength and resilience. Highly recommended for high school libraries.
Realistic Fiction     Lindsey Myers, Shady Side Academy Senior School Library
I did truly enjoy this book, and am excited to recommend it to my students. Chelsea does seem to give up at one point, but her friends and family rally around her to help her move on, and teens need to know that there are so many individuals around them who will help and support them. And, Chelsea is not the only one fighting demons in this story, and this fact illustrates how so many of us are fighting our own negative thoughts and emotions. I look forward to possibly using this title in a book club as well!