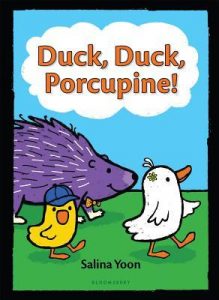 Yoon, Salina. Duck, Duck, Porcupine! New York: Bloomsbury, 2016. 978-1-61963-723-8. 64pp. $9.99. Gr K-2.
This easy-reader title contains three short stories: A Perfect Day for a Picnic, I Think I Forgot Something, and The Campout. Each story features Big Duck, her brother Little Duck, and their friend Porcupine. The stories unfold through the back-and-forth dialogue between Big Duck and Porcupine. Little Duck doesn't speak words yet, but his actions show that he is sometimes more aware of his surroundings than either of his friends. For example, in the first story, the friends prepare for a picnic. Big Duck and Porcupine are so busy gathering supplies that they don't notice a huge cloud creeping across the sky. Little Duck has been watching the sky closely, though, and when a downpour begins, he is the one who is prepared with an umbrella. Yoon's bright digitally-colored illustrations stand out against the story's uncluttered backgrounds, and her heavy outlining further set off her characters.  THOUGHTS: Fans of Elephant and Piggie books will love reading about this trio and their many adventures. This title will also work well as a read-aloud or as a reader's theatre production since all the text is already in speech bubbles.
Picture Book     Anne Bozievich, Friendship Elementary, Southern York County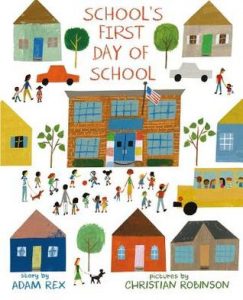 Rex, Adam. School's First Day of School. New York: Roaring Brook Press, 2016. 978-1-59643-964-1. 32pp. $15.44. Gr K-3.
As a newly built school, Frederick Douglass Elementary isn't sure what to expect at the beginning of a new school year. It's been just the school and the janitor all summer, but when the children arrive, everything changes. There's noisy lockers, splashing water fountains, and spilled nose milk. There's also brightly colored drawings, lessons about shapes, and new friends to meet. Rex's gentle text is perfect for reassuring nervous school newcomers, and students will relate to the school's worries about the unknown. They will also connect to the many familiar activities depicted in illustrator Christian Robinson's vibrant pictures: exploring the playground with friends, sitting in a circle on the classroom carpet, and filing out of the building during a fire drill.  THOUGHTS: Robinson's lively illustrations feature a diverse student body, and readers will enjoy pouring over the students' many activities. This title makes a perfect first-day-of-school read aloud, and it will fast-become a beginning-of-the-year staple.
Picture Book     Anne Bozievich, Friendship Elementary, Southern York County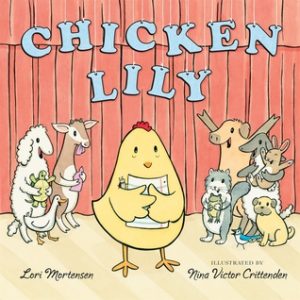 Mortensen, Lori. Chicken Lily. New York: Henry Holt and Company, 2016. 978-1-62779-120-5. Unpaged. $16.99. Gr. K-3.
Chicken Lily is great at many things, but being brave isn't one of them. She's cautious and doesn't like to take chances. Lily's friends ride their bikes without training wheels, try new foods, and are even excited for the class Grand-Slam Poetry Jam, so they can get up on stage in front of an audience and read their poems. Lily? "Just thinking about reciting a poem in front of everyone sent shivers down her tail feathers." Luckily, Lily's friends encourage her to write a poem anyway, and she finds the courage to read it onstage…only to find out that it's not so bad. Lily may be a chicken, but not all of the time. Lily's story is certainly not the first about a timid child, but the way Lily's friends and teacher encourage her is wonderful and worth a read. Adult will appreciate the subtle chicken humor. THOUGHTS: Many children could see a bit of themselves in Chicken Lily, and hopefully will find their own "plucky" spirit like Lily does. Crittenden's cute cartoon illustrates pair nicely with the story.
Picture Book     Lindsey Long, Nye & Conewago Elementary Schools
Keller, Laurie. We Are Growing! New York: Hyperion Books for Children, 2016. 978-1-48472-635-8. 49pp. $9.99. Gr. K-2.
Elephant and Piggie introduce and conclude this zany easy reader, the first in their new series called Elephant & Piggie Like Reading!  Several blades of grass are growing and each declares that he or she is the tallest, curliest, crunchiest, etc. Walt, the last blade of grass, doesn't have a clue about what he is until the blades of grass are all given haircuts from a lawnmower, and then Walt, rake in hand, realizes that he's the neatest! This story is simple and giggle inducing. Speech bubbles highlight the ongoing dialogue that is full of repetition and (mostly) appropriate words for beginning readers. Bright illustrations also help with context clues for tough words. THOUGHTS: Winner of the Theodore Seuss Giesel Award for 2017, We Are Growing! will be a hit with Elephant & Piggie fans or any young reader who likes a good laugh.
Picture book    Lindsey Long, Nye & Conewago Elementary Schools