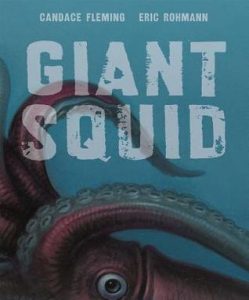 Fleming, Candace & Eric Rohmann. Giant Squid. New York: Roaring Brook Press, 2016. 978-1-59643-599-5. Unpaged. $18.99. Gr. 1-4.
Meet the mysterious and little known giant squid. Fleming and Rohmann introduce this fascinating creature bit by bit teasing the reader with facts about the different body parts. Rarely seen by human eyes, the giant squid illustrations by Rohmann are sure to capture the attention of readers no matter what age (including a large four-page spread). The writing is lyrical and smooth and there is a wonderful author's note in the back for those who want to know more.
THOUGHTS: This award* winning book is fun to read at any age. Perfect classroom book for science or library.  
*Robert F. Sibert Informational Book Honor
Non-Fiction Picture Book      Emily Woodward, The Baldwin School
Cyrus, Kurt. Billions of Bricks: A Counting Book About Building. New York: Henry Holt & Co, 2016. 978-1627-7927-38. Unpaged. $16.99. Gr. Pre-2.
A cute story incorporating skip-counting and building with bricks. Count by 2s, 5s, and 10s, and learn how bricks are made and used. Different styles of architecture are used to show this type of building material can be used. At the end a whole city (streets and all) emerges, but watch out for that extra brick!  THOUGHTS: I liked how how the workers were diverse in all senses, race, gender, and age. It's fun to read aloud with Kindergarteners who are learning to skip count and count in groups.
Picture Book      Emily Woodward, The Baldwin School