Fogliano, Julie. Old Dog Baby Baby. New York: Roaring Brook Press, 2016. 978-1-59643-853-8. Unpaged. $17.99. Gr. PreK-K.
This sweet story, told entirely in rhyming verse, portrays the relationship between an infant and the old family dog.  As the story opens, the dog is lounging lazily on the kitchen floor while an older sibling looks through family photographs.  Soon, the baby comes crawling in and begins playing with the dog.  The dog displays love and patience, and before long, the two curl up together for a nap. Beautifully simple illustrations by two-time Caldecott medalist Chris Raschka add to the story, revealing other family members besides the dog and the baby.  A delightful and relatable read for any child who has been lucky enough to experience the love and playfulness of a family dog.  THOUGHTS: Unlike some of Fogliano's other titles which deal with the changing seasons (And Then It's Spring (2012), When Green Becomes Tomatoes (2016)) this title is lacking obvious Common Core connections.  It is, however, charming and very relatable for young children; therefore, it should not be overlooked when making purchasing decisions.
Picture Book    Julie Ritter, Montoursville Area High School​
Curato, Mike. Little Elliot Big Fun. New York: Henry Holt and Company, 2016. 978-0-8050-9827-3. Unpaged. $17.99. PreK-Gr. 2.
In this story of friendship, fun, and overcoming one's fears, Elliot the elephant and his friend, Mouse, head to an amusement park on Coney Island.  Once there, Elliot is too scared to go on any of the rides until Mouse convinces him to try out the Ferris wheel.  Elliot is thrilled by the view from the top, which readers experience through a four-page foldout.  After that, Elliot's fears subside, and the pair continue to enjoy rides and games the rest of the day.  The gorgeous illustrations are indicative of an earlier time period, most likely the 1930s, and tell a story themselves.  For instance, Elliot's imagined fears about some of the rides are pictured in black and white opposite the colorful illustrations of the actual attractions.  There is also one page made up entirely of pictures that shows how Elliot's ice cream was snatched by a seagull and how Elliot was then frightened by a clown.  Altogether, the story and pictures give an excellent portrayal of old-time Coney Island and an even more touching portrait of the strength we gain through friendship.  THOUGHTS: This book could easily be tied into an elementary curriculum in various ways.  For instance, it could be used to introduce a unit on the history of Coney Island or a unit on 1930s fashion.  It could also be used to spark a discussion about summer vacations or about overcoming fears.  All in all, I think this book is very relatable to any child who has ever felt fear or doubt about a new experience.  It would be a great addition to any collection.
Picture Book    Julie Ritter, Montoursville Area High School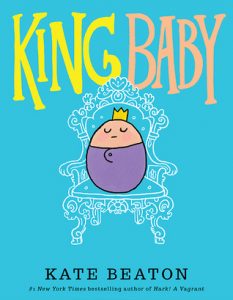 Beaton, Kate. King Baby. New York: Arthur A. Levine Books, 2016. 978-0-545-63754-1. Unpaged. $17.99. PreK-Gr. 1.
In this comical story, King Baby brings many blessings to his subjects (smiles, kisses,
and coos, for instance), but also has many demands for them ("FEED ME!", "BURP ME!").  When his faithful subjects fail to understand all of his demands, he must take matters into his own hands and learn to do some things for himself.  As he grows from a baby into a big boy, he begins to wonder who will lead his subjects now that King Baby is no longer.  That is, until he learns of the imminent arrival of his sister, Queen Baby.  The drawings of the sweet, yet devilish, baby add to the silliness of the book.  This hilarious, light-hearted read is perfect for tired new parents and for older siblings-to-be.  THOUGHTS: Perhaps best known for her Hark! A Vagrant comics, Beaton has won many awards for her humor.  As expected, this amusing title will have young children laughing at King Baby's antics.  Beaton has also set the stage for a possible sequel, as readers can only imagine how ridiculous Queen Baby's behavior may be.  Perhaps elementary teachers could use this title as a read-aloud and then have students write their own stories about Queen Baby.
Picture Book    Julie Ritter, Montoursville Area High School