Verde, Susan. The Water Princess. New York: G. P. Putnam's Sons, 2016. 978-0-399-17258-8. Unpaged. $17.99. Gr. K-3.
This gorgeous picture book is based on the childhood experience of fashion model and activist Georgie Badiel. A princess, named Gie Gie, has a magnificent kingdom and wonderful powers. But the one thing she wishes for, to make the water come closer, Gie Gie cannot do. Every day she and her mother walk miles to get water, "dusty, earth-colored liquid." Gie Gie dances with her mother on the journey there and plays with her friends while her mother waits in line for their turn. When they arrive home, mother boils water for them to drink. Gie Gie cleans their clothes, and the dinner is fixed. The next morning the journey for water is to be repeated again. THOUGHTS: The pictures are beautifully done and make you feel hot and parched. This book is a gentle, positive way to introduce the struggle some societies have over water. It is also based on a true story and has pictures in the back of Georgie Badiel and how she raised money for a well in a school situated in an area with no water. A great introductory read for a service project and to help students be aware of what some children struggle with.
Picture Book      Emily Woodward, The Baldwin School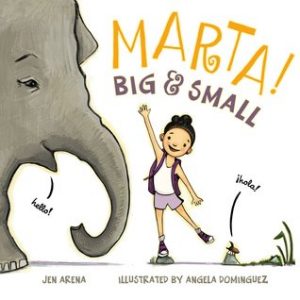 Arena, Jen. Marta! Big & Small. New York: Roaring Brook Press, 2016. 978-1-62672-243-9. Unpaged. $16.99. Gr. PreK-1.
Marta is a clever girl who lives in a jungle and knows Spanish. She teaches the reader descriptive words as well as animal names throughout the book. Marta shows the reader how she's slow compared to a horse, but fast when matched with a turtle. When a snake arrives on the scene, will Marta be as tasty as she looks? She is ingeniosa and escapes with a smile.  THOUGHTS: This fun little book incorporates Spanish & English, opposites, similarities, comparisons and animals. It's easy to follow while still having a lot of content. Perfect for Preschool through 1st Grade when introducing any of the above topics.
Picture Book      Emily Woodward, The Baldwin School
Chabbert, Ingrid & Guridi. The Day I Became a Bird. Toronto: Kids Can Press, 2016. 978-1771-3862-10. Unpaged. $12.99. Gr. 1+.
In this sweet and unusual book, a boy falls in love with a girl for the first time. She however, only has eyes for the birds. The boy decides instead of passively waiting, to do something that will definitely catch her attention.  Whether in class or on the soccer field, he wholeheartedly makes a transformation into a large bird. Will it be enough?  THOUGHTS: I loved the spare simplicity of the illustrations and the writing. The concept of the story paired with the mostly black and white images bring something rich to the reader. A wonderful read aloud for older elementary school/middle school classes.
Picture Book    Emily Woodward, The Baldwin School