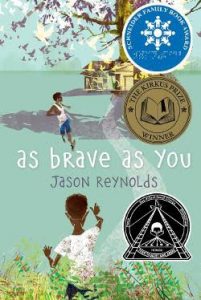 Reynolds, Jason. As Brave As You. New York, NY: Atheneum Books, 2016. 978-1-48141-590-3. 410 pages. $19.99. Gr. 4-8.
What does courage and bravery look like? How do families deal with hidden secrets? Questions flow out of Genie, the younger brother who is full of worries and wonder, as he and Ernie are sent to their grandparents house in rural Virginia for the summer. While their parents deal with issues in Brooklyn and go on a last ditch vacation to save their marriage, the two boys deal with new chores, no technology, and intergenerational struggles. The pull between Genie and his grandfather holds the tension in this story, but the other characters all hold a part in the relationships, secrets, and bravery that make this story remarkable.  THOUGHTS: There is plenty to unpack for the readers of Reynolds' work, and the concept of recording a questions journal may be the perfect device to release their thoughts. The setting and dialogue are genuine and easy to picture for readers who may have never experienced this life style.
Realistic Fiction      Dustin Brackbill, State College Area School District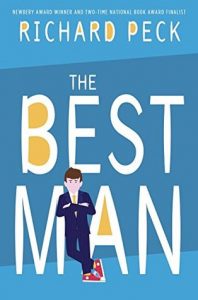 Peck, Richard. Best Man. New York: Penguin Young Readers Group, 2016. 978-0803738393. $16 .99.  240 p. Grades 5-8.
Sweet, funny, heartwarming story of family, friendship and love.  The novel starts and ends with the two weddings young Archer McGill has been in in his 11 years. The first is a remote cousin in which he meets his best friend, newcomer to town Lynette Stanley, and the last is the wedding of his beloved uncle to his fifth grade student teacher.  Over the course of his fifth grade year, Archer learns and grows, surrounded by loving family and friends including his wise and dignified grandfather, his eccentric and caring father, his stylish and proud Uncle Paul and Lynette, the smartest girl in the class with a large vocabulary and big heart. All of these people help Archer as he navigates his way into adolescence and discovers what it is to be a man in this world.  THOUGHTS: A great story that presents old-fashioned values with decidedly modern twists, proving that love is for everyone, no matter who you love.  Richard Peck still writes some of the best fiction out there for middle grades.
Realistic Fiction            Nancy Summers Abington Senior High School