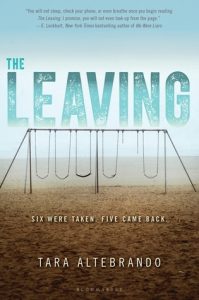 Altebrando, Tara. The Leaving. New York: Bloomsbury, 2016. 978-1-6196-3803-7. $17.99. 421p. Gr. 9-12.
One late summer day six students left home to attend their first day of kindergarten. They never made it home. Seemingly vanished without a trace, they left heartbroken family and friends fearing the worst. Eleven years later, five of the children have suddenly returned. Now teens, Scarlett, Lucas, Sarah, Adam and Kristen reappear when they are dropped off at a local playground, but they have no memory of the past eleven years. Where were they? Who took them (and why)? And, most importantly, where is Max, the sixth missing student (and why can't they remember him at all)? Readers follow the alternating voices of returnees Scarlett and Lucas as well as Max's younger sister Avery as they attempt to discover the truth behind the event that has become known as "the leaving." As time goes by, the returnees begin to remember bits and pieces of their lost time, but are these memories reliable? Perhaps the teens would be better off not remembering their childhood for some reason. THOUGHTS: This is a great choice for fans of mysteries or thrillers who will quickly find themselves engrossed in the unfolding drama. Thought provoking concepts about the power and importance of memory will remain with the reader long after they reach the final page.
Mystery     Elizabeth Henry, Lampeter-Strasburg HS/MS
Barnes, Jennifer Lynn. Bad Blood (A Naturals novel Bk. 4). New York: Hyperion, 2016. 978-1-484757321. $17.99. 373 pp. Gr. 8 and up.
Cassie, Michael, Lia, Dean, and Sloane are back in the fourth and (hopefully not) final book of The Naturals.  Each title of Barnes's Criminal Minds meets Veronica Mars series has ratcheted up the tension and not disappointed.  After learning that her mother is still alive, Cassie and the team are on a mission to track down the Fibonacci cult holding her and figure out why this cult targeted her mother.  Before any headway is made, Michael is drawn back to the Townsend estate when a childhood friend is missing.  Although she goes missing on a Fibonacci date, she is not tied to the "Seven Masters, […] The Pythia. And Nine" (9).  As the Naturals continue searching for clues, Cassie, Agent Sterling, and the others, figure out Nightshade's real identity and visit his hometown, which Cassie quickly realizes once was her home too.   As the Naturals piece together the puzzle of the Pythia, the Seven Masters, Nine, and the influence of a local cult on Nightshade and Gaither, OK, Cassie must face suppressed memories from her past and the impact of her actions now.  THOUGHTS:  Bad Blood does not disappoint.  It is intense and suspenseful and quite hard to put down.  Give The Naturals series to any student who loves mystery, suspense, and crime dramas.  A perfect ten!
Mystery/Suspense      Erin Parkinson, Beaver Area MS-HS