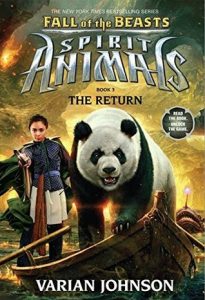 Johnson, Varian. Spirit Animals: Fall of the Beasts: Book 3 The Return. New York: Scholastic, 2016. 978-0545-84207-5. 186 p. Gr. 3-8.
The Greencloaks and their new friends are divided into two groups. The dark Wrym infection continues to get worse for Conor. Meilin struggles to trust Kovo, despite Takoda being helpful. When trying to find the Evertree on boat they struggle until they come across Pirates while sailing the Sulfur Sea. The Pirates are much different from the tales they have heard as they group contains all well groomed female Pirates. The other group has disguised themselves as servants. Abeke is assigned as servant to Kirat, new spirit animal partner with Cabaro, and she thinks that she can truly help Kirat. The bond with Spirit Animals continue to lessen and the book concludes leaving high levels of suspense.  THOUGHTS: This book has endearing moments of others remembering those that they have lost and those that  they look up to. Some characters from other books show up in surprising ways. The compelling series continue with another novel.
Fantasy; Adventure   Beth McGuire, Wendover Middle School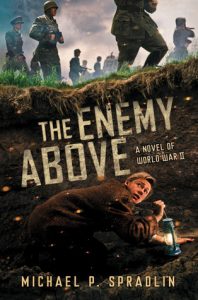 Spradlin, Michael P. The Enemy Above: a Novel of World War II. New York: Scholastic, 2016. 978-0-545-85782-6. 232 p. Gr. 4-6.
The year is 1942, and twelve year old Anton often hears artillery in his home of Ukraine. His father joined the Polish army three years ago, and now his 19 year old Uncle Pavel wishes to fight against the Nazi's. Bubbe (grandmother) tells Anton to hide when they overhear a sound. They eventually escape to a cave. While there Anton befriends Daniel who saw the Nazi's take his mother and sister, he wonders where God was during that nightmare. It is becoming more dangerous for the adults to explore from the cave at night to locate water. Anton and Daniel are tasked to explore the cave and find water and also a way out. Will they survive and get past Gestapo Colonel Karl Von Duesen who takes delight in rounding up Jews like a hunting sport?  THOUGHTS: The Enemy Above is perfect for fans of survival or historical fiction. Scholastic produced an engaging book trailer:  http://www.scholastic.com/bookfairs/books/book-trailers/enemy-above
Historical Fiction (WWII)    Beth McGuire, Wendover Middle School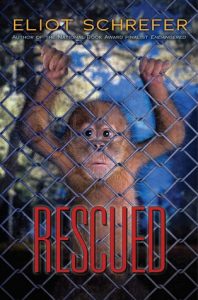 Schrefer, Eliot. Rescued. New York: Scholastic, 2016. 978-0-545-65503-3. 261 p. Gr. 7-12.
You might think if your pet orangutan accidentally eats your finger that your bond with the pet would shatter. This in not the case for John and his orangatang, Raja, that his father got for him while overseas at work. Growing up together an hour away from Atlanta, the divorce of his parents finds John moving to Oregon with his mother. Raja will stay with his father.  While the plan was for John to regularly visit his father, this did not occur.  Years later when John's  father has to move, he can no longer keep the orangutan and finds a new home for Raja called "Friendly Land."  Even after being separated from Raja for years, John has not lost his brotherly bond or ability to sign with Raja. John deeply desires a better life for Raja. John finds himself on a wild car ride and plane trip to return Raja home. John's mother, a teacher, uses her savings to attend the flight back with John and Raja. Ultimately she allows John to decide if Raja should remain in a safer environment or reenter his natural homeland. Readers will find themselves   considering what they would do if they were in a similar situation and reflect upon what it means to be "rescued." A question and answer session with the author concludes the book encouraging readers to learn more. Rescued is the third novel in acclaimed Schrefer's Ape Quartet and the novels can be read in any chosen order.  THOUGHTS: Present information about habitat found in Indonesia and Sumatra can add to discussion leading readers to ponder if there a point that industrialization can go too far. Those who grew up reading Applegate's The One and Only Ivan (Harper Collins, 2012) will be extra delighted to journey John and Raja.
Realistic Fiction   Beth McGuire, Wendover Middle School