Mihulka, Krystyna and Krystyna Poray Goddu. Krysia: A Polish Girl's Stolen Childhood during World War II. Chicago: Chicago Review Press, 2017. Print. 978-1613734414. 192 p. $17.99. Gr. 7-12.
Since many lessons taught about the European Front during WWII are focused on the experience of individuals in the Holocaust, this is an interesting title to share with both classroom teachers and students as an example of what happened to Polish non-Jews during the war. Krysia lived a happy childhood in Poland with her mother, father, and brother, before the start of WWII. When the Soviets take over her area of Poland, the family is forced to share their home with Russians, and her father must go into hiding because of his previous occupation with the Polish court system. Soon, Kyrsia, her mother, and brother are forced to leave their home and board a cattle car for unknown lands. They live as political prisoners in Kazakhstan, struggling to survive bitter cold, snowy winters and plagued by diseases and malnutrition. The story is well-told and fast-paced, perfect for the younger audience for which it is intended. The authors include a glossary of Polish terms, a map of Krysia's journey, and photographs of her family throughout the text. THOUGHTS: This is an excellent addition to memoirs of WWII, and can easily be incorporated in lessons about the experiences of children during the war years.
Autobiography (WWII)     Lindsey Myers, Shady Side Academy Senior School
I truly enjoyed this story, as it shared a part of the War that I had not previously studied or knew much about. Krysia is a strong and resilient young girl, and I think that many middle school and high school students will be interested in reading her story. I am eager to learn more about the Polish experience during WWII, and the path they were forced to take to eventual freedom.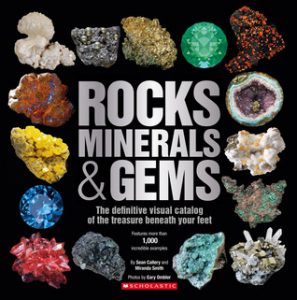 Callery, Sean and Miranda Smith.  Rocks Minerals & Gems: The Definitive Visual Catalog of the Treasure Beneath Your Feet. Gary Ombler, Photographer. New York: Scholastic, 2016. 978-0-545-94719-0. $19.99. 224 pp. Gr. 5-8.
This is a stunning addition to any middle school science collection.  Each page includes beautiful, full color photos of various rocks, minerals, and gemstones in varying degrees of formation.  Text boxes and captions include information about the rock, mineral, or gem presented on the page including, but not limited to, formation information, usage (historic and present), varying degrees found in nature, location, general information, such as group, formula, color, form, luster, etc., and fun facts.  For instance, did you know that "[m]any objects are misnamed and the Emerald Buddha […] is carved from jade" (165) or "[c]innabar is the chief ore of mercury" (83).  THOUGHTS:  Rocks Minerals and Gems is a fabulous addition to any middle school (and high school) science collection.  The photographs are gorgeous and the information is very user-friendly.  This is a must-have text (and an affordable one).
552; Science    Erin Parkinson, Beaver Area MS-HS