DeStefano, Lauren. The Peculiar Night of the Blue Heart. Bloomsbury, 2016.  978-1-61963-643-9. $16.99. 208pp. Gr. 4-7.
Marybeth is well respected at the orphanage. She befriends Lionel, a boy misunderstood by others. After winding up at a barn unexpectedly for a night, she tells Lionel that she followed the blue spirit and since then things have been very wierd. Mrs. Mannerd is very worried about Marybeth's recent behavior. Doctors worry that Marybeth is hurting other students, and this upsets Mrs. Mannerd as she would have loved to have a child like Marybeth before these episodes.  The special doctor visit leads Marybeth to be admitted into a hospital where it will be month before visitors are permitted. How can Lionel save his dear friend?  THOUGHTS: This is a powerful novel filled with heart.  The message that bravery is inside resonates throughout the adventures.  Late in the book readers learn that Lionel's father killed his mother and that is why he wants to be a fierce animal. The spirit shows that Liza was killed and father suggested mother not know  and the guilt rid the older brother.
Fantasy    Beth McGuire, Hempfield Area School District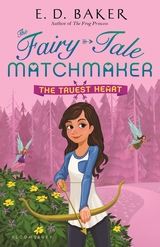 Baker, E.D. The Fairy Tale Matchmaker: The Truest Heart. Bloomsbury, 2016. 978-1-61963-849-5. $16.99. 272pp. Gr. 4-7
Cory needs to participate in the Ogre party that includes a kick boulder game, food-eating contest, flatulence contest, and a three-legged race. This is a diversion for the harassment and sabotage that Cory has received since leaving the Tooth Fairy Guild. While Cory is a cupid, this is kept a secret. Her skills make it hard for her to believe that her mother, Delphinium, who disowned her, should pair with FLEA Officer Deads. Cory seeks advice from her grandfather, also a cupid. Will Cory be able to calm the guilds, help her estranged mother, and embrace her Cupid skills?  THOUGHTS:  E.D. Baker writes whimsical novels and has also influenced Walt Disney's The Frog Princess. The series should be read in order to build on the continuity of the series.
Fantasy    Beth McGuire, Hempfield Area School District
Bladek, John. Lost in Ghostville. Stone Arch, 2016. 978-1-4965-3360-9. 205pp. $25.32. Gr. 4-8.
Sixth grader Trey embraces adventure and finding ghosts. He basks in the new excitement that celebrity Rex Rangler adds to their low key town.  Trey even brings his ecto-meter to the girl's bathroom at school, but this leads to trouble. As a result, Trey's mother drives him and Vicki to Dino-Barn, but it does not feel right. The old theater owner, Mr. Greensock, is there. Vicki remembers that he died last year.  Through his adventure he is shocked to become friends with Vicki, and she wonders if she can find the ghost of her father who died at war. Trey has his ecto-meter and hopes to find his grandma and free Vicki. He has a showdown with Rex to confront his "ghostnapping."  This book also includes a glossary.  THOUGHTS:  With well developed characters and adventure, this book is more than a ghost story to cause fear.
Fantasy/Paranormal    Beth McGuire, Hempfield Area School District