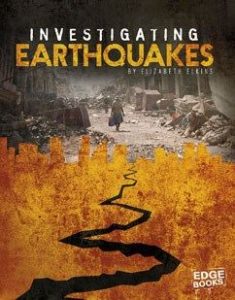 Elkins, Elizabeth.  Investigating Natural Disasters. Capstone, 2017. $20.99ea. $83.96 set of 4. 32p. Gr. 3-7.
Investigating Earthquakes. 978-1-51574-038-4.
Investigating Floods. 978-1-51574-040-7.
Investigating Hurricanes. 978-1-51574-039-1.
Investigating Tornadoes. 978-1-51574-037-7.
The Investigating Natural Disasters series aims to inform readers about four of the most common natural disasters: earthquakes, floods, hurricanes and tornadoes. The forces that form each type of disaster and explained and scientific terminology is defined within callout boxes present throughout the chapters. The role and scientists, meteorologists and other forecasters in predicting events is also highlighted. Well-known examples of each type of disaster are included within the text. Disaster safety tips, for before, during, and after each each event are presented and discussed. THOUGHTS: This engaging series offers interested readers a good introduction to the science behind the natural disasters most likely to strike in the United States. A solid choice for student researchers and casual readers alike.
Geology; Meteorology      Elizabeth Henry, Lampeter-Strasburg School District