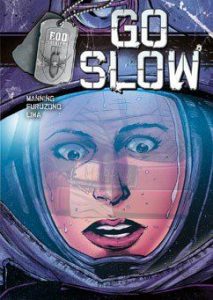 Manning, Matthew K. Art by Carlos Furuzana and Dijo Lima. EOD Soldiers. Capstone, 2017. 978-1-4965-3415-6. 40pp. $19.49 ea. Gr. 4-8.
Enter with the U.S. Army's Explosive Ordnance Disposal in Afghanistan in this new graphic novel series. In Go Slow, Specialist Rose Campbell is reminded by her protective father to take everything in while being careful throughout the dangers of Afghanistan. In The List, Private Matty Giaconne makes note of experiences in Afghanistan to have answers prepared when he returns and others ask about his service there. He also worries about the disagreements he has had with his wife. Both books show the danger faced and the bravery displayed by those in the EOD. Full color artwork clearly captures the emotion and danger facing our EOD soldiers.  Back matter includes more information about EOD such as schooling or badges, visual questions, and a glossary. THOUGHTS:  This series is excellent for students that love to learn more about the military and those who gravitate towards graphic novels and artwork. The stories will leave an impact on the reader. The books could be included in a lesson as they are not too long, but leave room for discussion and research.
Graphic Novel; War      Beth McGuire, Hempfield Area School District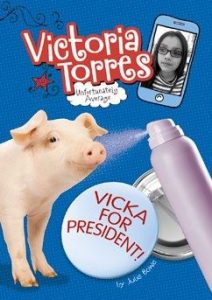 Bowe, Julie. Victoria Torres Unfortunately Average. Stone Arch, 2017. 978-1-4965-3800-0. 148p. $19.49 ea. Gr. 4-8.
In Vicka For President!, 6th grade Victoria is inspired to run for class president by her parents, siblings, and closest friends.  At her school, the President is the student receiving the most votes and the person with the second most votes becomes Vice President. Her classmate Annelise is very popular and also is able to spend her parents wealth on tokens and stickers. Henry will also run for president as challenge with a campaign around mud.  Victoria determines her slogan, stump speech, and ways to improve the school with a compost and garden. Will that be enough with all of Annelise's trinkets and the boys all clamouring for humourous Henry and his campaign of mud?
In So Much Drama, it is time for the big 6th grade Shakespeare play. This year will be Romeo and Juliet. Vicka's best friend is the director, and Vicka is upset to be cast as Friar Lawrence. Will everything work out in the end?
THOUGHTS: In 2016, the first four books in the series were published. The realistic fiction hooks upper elementary and middle school readers.
Realistic Fiction      Beth McGuire, Hempfield Area School District