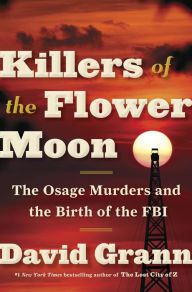 Grann, David. Killers of the Flower Moon: The Osage Murders and the Birth of the FBI. Doubleday, 2017. 978-0-385-53424-6. 338 pp. $28.95. Gr. 10 and up.
In the 1920s, members of the Osage Indian nation in Oklahoma were among the world's wealthiest people thanks to the "subterranean reservoir of black gold" beneath their rocky reservation land. Small checks for oil leases and royalties grew to many millions of dollars payable to people on the Osage Roll. These coveted mineral rights could not be bought or sold, only passed on through inheritance. Not trusting the Osage with such vast wealth, the government appointed guardians to steward the money safely into bank accounts and investments. Many unscrupulous guardians swindled the Osage out of their rightful payments. Compounding the troubles of the Osage, more than twenty people suffered untimely deaths through seemingly unconnected causes: gunshots, poison, and even a bombing. Under the guidance of J. Edgar Hoover, a newly restructured FBI was tasked with solving these bizarre, brutal crimes. At the heart of this powerful page-turner is the woman who lost most of her family and nearly her own life, the agent who represents the changing face of law enforcement, and the reporter who discovered an even deeper, darker layer within the Osage Reign of Terror. THOUGHTS: Killers of the Flower Moon is terrific narrative nonfiction that will appeal to readers who are interested in true crime, American history, and the "truth is stranger than fiction" facets of this maddening case.
An interesting book trailer may be viewed at https://www.youtube.com/watch?v=__SSyQz7wPY. For further insights, listen to David Grann's April 17, 2017, interview on NPR's Fresh Air at http://www.npr.org/2017/04/17/524348264/largely-forgotten-osage-murders-reveal-a-conspiracy-against-wealthy-native-ameri or view the CBS Sunday Morning feature at https://www.youtube.com/watch?v=enjZe3Bq8tA.
976.6 (History)        Amy V. Pickett, Ridley School District
Sartore, Joel. The Photo Ark: One Man's Quest to Document the World's Animals. National Geographic, 2017. 978-1-4262-1777-7. 399 pp. $35.00. Gr. 7 and up.
At the current rate, half of all species on Earth could go extinct by 2100. Photographer Joel Sartore's goal is to record images of all of the world's approximately 12,000 species under human care before they are gone forever. The Photo Ark collects hundreds of his most striking images in one uniquely browsable volume. The book is organized into five sections: Mirrors, Partners, Opposites, Curiosities, and Stories of Hope. Each arresting two-page spread features pairs or groups of animals with a visual, environmental, or thematic connection (e.g., the owl and the pussycat). Deep black and clean white backgrounds make the animals the visual focus of each photograph. Accompanying abbreviations indicate each species' risk of extinction. "Heroes" sidebars feature researchers and conservationists working tirelessly to protect vulnerable animals. Aspiring photographers will especially love the "Behind the Scenes" sections. THOUGHTS: This is a breathtakingly beautiful book that's equal parts virtuosic artistry and call to action; every image is an invitation to learn (and do) more. It's an essential purchase for every library, and an outstanding choice for readers of Wild at Heart by Terri Farley and Moonbird by Phillip Hoose.
For more insight into Joel Sartore's mission and process, visit www.natgeophotoark.org. For even more detail, listen to his February 27, 2017, interview on NPR's Fresh Air at http://www.npr.org/2017/02/27/517481473/photographer-builds-a-photo-ark-for-6-500-animal-species-and-counting.
779 (Photography)      Amy V. Pickett, Ridley School District