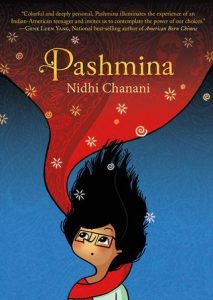 Chanani, Nidhi. Pashmina. First Second Books, 2017. 978-1-626720886. 176 pp. $21.99. Gr. 6-9.
When Priyani puts on the pashmina that she finds in a hallway closet, she is transported to India, and author Nidhi Chanani's black and white artwork is transformed into rich color. Priyani is greeted by new friends Kanta and Mayur (an elephant and a peacock), her tour guides through her mother's home country. She's captivated by the sights, sounds, and tastes, but she's also pursued by a mysterious shadow figure. The pashmina slips off, and Pri is back home again, desperately hoping to talk her mother into letting her travel to India IRL. Her mother relents after receiving a phone call from Pri's aunt, who is pregnant and seeking family to support her. THOUGHTS: This middle-grade graphic novel charmingly depicts the many ups and downs of a mother-daughter relationship, the pashmina's true purpose, and the importance of connecting with one's familial culture. It's a wonderful choices for readers who find themselves somewhere in between Raina Telgemeier's and Lucy Knisley's books.
Graphic Novel     Amy V. Pickett, Ridley School District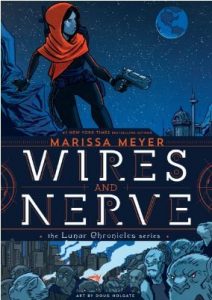 Meyer, Marissa, and Doug Holgate, illustrator. Wires and Nerve. Feiwel and Friends, 2017. 978-1-250-07826-1. 238 pp. $21.99. Gr. 7 and up.
Return to the world of Marissa Meyer's much-beloved Lunar Chronicles with Wires & Nerve, a graphic novel told from the point of view of Cinder's android companion, Iko. The revolution is over and Cinder is queen, but dethroned Queen Levana's wolf-hybrid soldiers are still terrorizing residents of earth. Iko, the proud owner of a new escort-droid body, has been tracking and apprehending these wolf packs all over the globe and she's got the battle scars to prove it. Everything comes to a boil with a gala, a huge announcement from Cinder, and a plot against the queen. Wires & Nerve has a rollicking, getting-the-gang-back-together tone that balances the complex back-story and long roster of characters. The fun, slate gray-colored artwork is a good fit with the novel's futuristic plot. And the cliffhanger ending guarantees a sequel or two! THOUGHTS: Newcomers to Meyer's stories might find themselves a little lost, but what better excuse could you need to dive into the stellar Lunar Chronicles series?
Graphic Novel, Science Fiction Amy V. Pickett, Ridley School District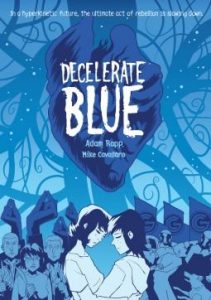 Rapp, Adam, and Mike Cavallaro, Illustrator. Decelerate Blue. First Second, 2017. 978-1-59643-109-6. 188 pp. $17.99. Gr. 8 and up.
Lois Lowry's The Giver meets M.T. Anderson's Feed in Adam Rapp's graphic novel Decelerate Blue, a creative exploration of a hyperkinetic future and the resistance movement dedicated to slowing things down. Angela Swiff is uncomfortable with a world that prizes speed, brevity, and constant connectedness. For example, she studies a "clipped and cleaned" version of Romeo and Juliet in Brief Lit. Someone who calls himself "The Silent One" senses her discontent and anonymously delivers her a contraband book entitled Kick the Boot. Meanwhile Angela's beloved grandfather is scheduled to be moved to a reduction colony, but first he asks her to dig up a shoebox he buried under a tree behind the Megamall. While doing so she is literally pulled into an underground community that rejects New World alertness in favor of Old World mindfulness. New love with a girl named Gladys makes the Underground even more appealing, but joining the resistance has high stakes. Angela is a perfectly teenaged mix of spunk, vulnerability, and passion. Mike Cavallaro's artwork is wonderfully expressive and well-suited to this cautionary tale of technology gone hyper. THOUGHTS: Grab a cup of Rapid Jo and prepare to fly through this gripping and, yes, fast-paced graphic novel. It's perfect for fans of Matched by Ally Condie.
Graphic Novel, Science Fiction     Amy V. Pickett, Ridley School District