Kenneally, Miranda. Coming Up for Air. Sourcebooks Fire, 2017. 978-1492630111. 304 pp. $10.00. Gr. 10 and up.
Miranda Kenneally returns to the world of Tennessee's Hundred Oaks High School with Coming Up for Air, a mature-YA sports romance centered on swimming. Maggie King has never had time for boys; she's totally focused on securing a spot on a top-tier college team, and maybe even snagging an Olympic trial cut, too. While on a visit to Berkeley, she realizes that heading off to college with a total lack of romantic experience might be a mistake. Who better to teach her the lessons of "hooking up" than her best friend and fellow swimming star, Levi? Unsurprisingly, things get complicated when their electric chemistry threatens both their friendship and their focus on training and competing. Throw in bad-girl Roxy, Maggie's rival in the pool who suddenly shows an interest in Levi, and sit back to watch the drama unfold on every page. THOUGHTS: This sweet-and-steamy romance is so much fun you will want to join Maggie, Levi, and the gang at Jiffy Burger for fries on Friday just to see what happens next! Another excellent novel that focuses on swimming and romance between friends is Phantom Limbs by Paula Garner.
Realistic Fiction, Sports Romance      Amy V. Pickett, Ridley School District
High school senior Maggie is always poolside or working out to do better in the pool, trying to earn an Olympic cut. With three friends who understand the lifestyle of a competitive athlete (one a swimmer, one a gymnast turned cheerleader, and one a baseball player), Friday night dinners at Jiffy Burger have been the glue that holds them together. Who wouldn't want to hang out with this group?   On her college visit to one of the best swimming schools in the country, Maggie is quickly distracted by swimming rival Roxy and the fact that Maggie hasn't had time for boys and doesn't know how to be more than just friends. Upon her return home, Maggie makes a plan and enlists the help of her best friend and swimming male counterpart Levi. Levi is an expert in keeping things casual, and he will show Maggie the ropes. She trusts him, they've been best friends since middle school, and they understand each other, so what could go wrong? Neither of them predicted what is in store in this hot and heavy romance.  THOUGHTS: This was my first Kenneally book, but I can see why the high school girls devour them. The friendships and banter between characters are compelling. Plus, readers will want to know what the outcome is. With descriptions of casual sex and drinking, it may be for more mature readers.
Realistic Fiction      Maryalice Bond, South Middleton SD
Vinesse, Cecilia. Seven Days of You. Little, Brown Books, 2017. 978-0-316-39111-5. 336 p. Gr. 10 and up.
Sophia dreads leaving Tokyo, and she has only one week to come to terms with leaving her home –  the only place that's ever felt like home, her friends, and her school behind. Just when things can't seem to be any worse for Sophia, Jamie comes back to Tokyo. Having left on bad terms for boarding school in the states years ago, Sophia wants nothing more than to wish Jamie's return away. The connection she feels immediately, however, is strong. Within the seven days, only a few of them actually involve Jaime, so the title may seem slightly misleading. Really, Sophia's seven days are about her sadness over leaving Tokyo.  THOUGHTS: Assuming the descriptions are realistic, this book is a whirlwind, one week trip around Tokyo. The teenagers freely come and go, but maybe that is part of the international school lifestyle. Though there is some language, drinking, and non-explicit descriptions of sex, this book will be a hit where first love (with an international flair) is popular. For fans of Stephanie Perkins, Jennifer E. Smith, and many other YA romance writers!
Realistic Fiction      Maryalice Bond, South Middleton School District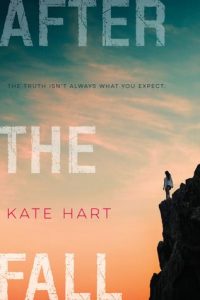 Hart, Kate. After the Fall. Farrar, Straus & Giroux, 2017. 978-0-374-30269-6. 336 p. $17.99. Gr. 10 and up.
Raychel has a lot going on in her life; she has a promiscuous reputation around school; she and her mom struggle financially, and she is sort of part of her best friend Matt's family. Unbeknownst to Raychel, though how I'm unsure since it's obvious to everyone else, Matt is in love with her. The alternating chapters set a nice pace and allow readers to experience the emotions and events from both teen perspectives. The mess of Raychel's life is built up throughout Part I, however, the backstory is necessary to emphasize the sheer loss experienced during Part II. Readers will appreciate the honest portrayal of small, college town teens and the desire to fit in with friends and family. Feeling left behind with friends off in college, animosity between parent and child, sexual assault, sibling rivalry, poverty, and grief are all topics covered. Ultimately, Raychel learns that secrets don't help your situation, and facing one's fears (even if it is a daily struggle) is the way to move forward.
Realistic Fiction     Maryalice Bond, South Middleton School District