Wang, Corrie. The Takedown. Freeform, 2017. 978-1-484-75742-0. 384 p. Gr. 9 and up.
Kyla Cheng appears to have everything going for her; she's the girl you want to be (or maybe the girl you want to hate). Among the top of her small Brooklyn prep school's social food chain (and top of her class), Kyla has a long way to fall, and boy does she ever. When an explicit video of her and her teacher goes viral, Kyla gains instant, yet unwanted, fame. The catch? Kyla says the video is a fake and wants to know who would do this to her, a high school girl who won't even date because she's so focused and driven. The fallout ensues, as Kyla tries to pick up the pieces of her life and figure out whom she can trust, how she can repair her unjustly damaged reputation, and learn how she can recover from this takedown. Being so connected and relying heavily on technology, everyone's a suspect.  Part cautionary tale, part high school social commentary, Wang delves into a world where technology rules. The pacing and paranoia of this book grabbed my attention and held on right from the start. As Kyla begins to reevaluate choices she's made, readers will empathize with how challenging teenage social circles can be. THOUGHTS:  Though Kyla's story is a bit extreme, there is little privacy these days with so much handheld technology. Hopefully teen readers will remember this important lesson as images and videos are rarely truly gone.
When I described the book to my students, they thought it could easily take place today, but the characters seem slightly more connected than today's teens. Reading The Takedown reminds me of reading Bradbury's Fahrenheit 451, only it seems less of a distant future. Like Fahrenheit 451, The Takedown is certainly a possible, scary future. Whatever you're looking for, this book has it all: mystery, drama, technology, romance, parent/teen relationships, and it packs a satisfying punch!  
Realistic Fiction       Maryalice Bond, South Middleton School District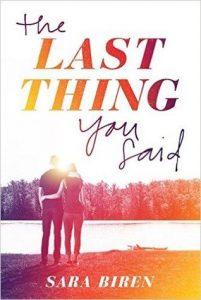 Biren, Sarah. The Last Thing You Said. Amulet Books, 2017. 978-1419723049. 320 p. $17.95. Gr. 9-12.
This sweet, poignant tale is the perfect selection for an easy and engaging summer read for teens. Lucy and her family live along the Halcyon Lake in Minnesota, and their lives revolve around the tourist season in the summer. Lucy's summers are spent working for her mother and exploring with her best friend Trixie and Trixie's brother, Ben. When Trixie dies tragically, Lucy's budding relationship with Ben is halted as he struggles with his sister's death. The story follows the characters in their first summer without Trixie. Ben continues to ignore Lucy, dealing with his anger by drinking often and fighting with his parents. Lucy tries to move on, making friends and going on dates with the boy who moved in next door for the summer. The story moves fairly quickly, and the characters are realistic if a bit mature for their ages (yet, tragedy does bring maturity). Readers will feel as though they are with the characters at the lake, spending their summers figuring out who they want to be in life and how to find and deserve love in the midst of sadness. THOUGHTS: This is an excellent title to recommend to fans of Sarah Dessen, and a great addition to a high school library's realistic fiction section.
This was a sweet book, if a bit overly dramatic and hard to believe at times. It was a fast read, so teens will devour it quickly and want more immediately. I have a feeling that this author will easily find a place beside Sarah Dessen, Maureen Johnson, and other popular Young Adult romance writers.
Realistic Fiction     Lindsey Myers, Shadyside Academy
Though Trixie's tragic death occurs well before the book begins, her absence remains an obvious hole in the lives of alternating narrators Lucy and Ben – and of the friends and family that try to help them deal with their grief while also dealing with their own. Readers will be compelled to watch Ben and Lucy as they orbit each other in their small, lakeside town. Though seeing the other brought raw feelings to the surface, Ben and Lucy are inexplicably drawn to each other through their shared loss, former friendship, and hope for the relationship they may have had. THOUGHTS:  This book is not just about grief over losing a person so integral in one's life. It is about struggling to move on, to remember, and to deal with guilt and everyday reminders of her absence.
Realistic Fiction       Maryalice Bond, South Middleton School District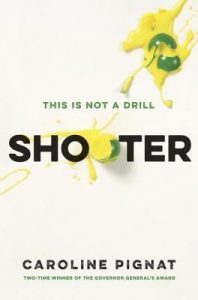 Pignat, Caroline. Shooter. Razorbill Canada, 2017. 978-0-143-18757-8. 336 p. Gr. 9 and up.
Multiple narrators tell this story which gives a unique and an added struggle to the situation unfolding at this school, which could be anywhere. Readers will race to uncover the personal struggles of each character as they deal with being locked together in the boys' bathroom during a school lockdown. As readers get to know the characters, suspicions will rise, wondering if each character could be somehow involved or targeted. THOUGHTS:  Shooter is a fast-paced, raw, emotional novel that packs a punch and makes readers think about what goes one when no one else is looking – really looking – at us. This book is for fans of Jennifer Brown's Hate List, Shaun David Hutchinson's Violent Ends, and Marieke Nijkamp's This is Where it Ends.           
Realistic Fiction       Maryalice Bond, South Middleton School District