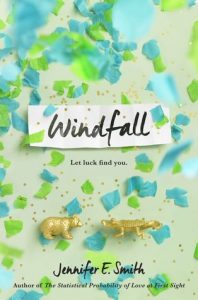 Smith, Jennifer E. Windfall. Delacorte Press, 2017. 978-0-399-55937-2. 414 p. Gr. 9 and up.
Alice, Teddy, and Leo have been together through a lot, and luck did not bring them together. Alice moved across the country at age 9 to live with her cousin Leo and his family after both of her parents died a year apart from each other. Teddy's dad disappeared after losing his family's apartment as a result of gambling debts. Nine years later they're the best of friends, and their luck seems like it's about to change. The lottery ticket Alice gives Teddy for his 18th birthday is a winner, a $140 million winner to be exact. What Teddy sees as a blessing, Alice sees as a curse; she's had more than enough change for one lifetime. With delicate ease, Smith demonstrates how fears can hold us back and how difficult change can be. Windfall approaches many topics like loss, grief, gambling, graduating, families, and relationships while asking what would you do if you won the lottery, and would it change you for the better?  
Realistic Fiction       Maryalice Bond, South Middleton School District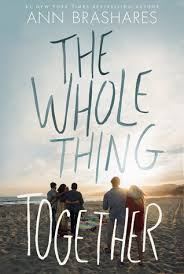 Brashares, Ann. The Whole Thing Together. Delacorte Press, 2017. 978-0-385-73689-3. 304 p. $18.99. Gr. 9 and up.
Though they share a bedroom on opposite weeks at their families' beach house on Long Island, Ray and Sasha have never met. Family is a complicated term for these two teens who share three older half sisters (Ray with his mom and Sasha with her dad). From mutual childhood toys to books with notes written in the margins, Ray and Sasha's lives are more intertwined than one would expect, considering they've never met. They're like siblings, and something about sharing a space has become almost intimate. Not everything is sunshine and summery as one may expect of a book set at the beach. The carefully constructed modern day blended family dynamics show just how complex relationships can be. Told through multiple points of view, Brashares's The Whole Thing Together will charm readers with it's idealistic setting and family drama.
Realistic Fiction       Maryalice Bond, South Middleton School District
Lyga, Barry. Bang. Little, Brown Books, 2017. 978-0-316-31550-0. 304 p. Gr. 9 and up.
Sebastian is 14, and 10 years ago he did something so unspeakable, so unthinkable, so unintentional: he shot and killed his infant sister. Though he has no recollection of the tragic moment, Sebastian has lived his life full of guilt. Now he's ready for some relief. Bang approaches so many "headline" issues – gun violence, broken families, lack of communication, depression, suicide, Islamophobia, and more – with a gentle yet compelling voice. Readers will root for Sebastian to find some peace in life, and he will stay with them long after the last page.  THOUGHTS:  I'm truly at a loss for words after finishing Bang. To put things simply, this book is incredible, and it is a must read!
Realistic Fiction       Maryalice Bond, South Middleton School District