Messner, Kate. Ranger in Time: Journey Through Ash and Smoke. Scholastic Press, 2017. 978-0-545-90979-2. 124 p. $17.99. Gr. 2-5.
If you don't know Kate Messner's Ranger in Time series, you're missing out! A little bit Magic Tree House and little bit I Survived…, this series features a time-travelling dog, Ranger. He lives in present day and failed search-and-rescue training due to his love of chasing squirrels, but he's often called to help kids in dangerous situations at different times in history. His training comes in handy, as does his love and trust in humans. In this story, Ranger is called to help Helga, a young girl from Norway whose family has moved to Viking Age Iceland. Helga is strong and resourceful, and at first Ranger seems to receive more help from Helga than the other way around. When Helga's pregnant mother goes into early labor and a nearby volcano shows signs of eruption, Helga and Ranger venture out together to find Helga's father, gone to a nearby meeting over a day's travel away from home. Ranger helps Helga out of a very dangerous situation and the whole family stays safe. Messner's series is fast-paced, full of adventure and historically accurate details, and of course, lovable Ranger. She includes an excellent Author's Note in each book with information about her research process and travels.  THOUGHTS: Hand this one to dog lovers who are looking for a good adventure. They won't be disappointed.
Action/Adventure    Lindsey Long, Lower Dauphin School District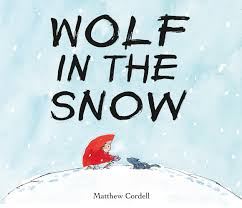 Cordell, Matthew. Wolf in the Snow. Feiwel and Friends, 2017. 978-1-250-07636-6. Unpaged. $17.99. Gr. K-3.
A lovely tale of courage and kindness, this story is perfect for sharing one-on-one. A little girl in a red coat heads home from school and gets lost in a snowstorm; the same storm separates a wolf pup from his pack.  The little girl finds the wolf pup struggling in the snow and helps him find his way back to his howling pack, even though she is tired and the wolves could do her harm. When they find the wolf pack,
Cordell amps up the drama with a two-page spread of opposite vignettes: the wolf pup's golden eyed mother versus the wide-eyed girl holding the pup. The wolf mother inspects her unharmed pup and understands  the little girl's kind gesture. She sets off for home, even more tired than before, and shortly after collapses in the snow. In a show of repaid kindness, the wolf pack surrounds her and howls to attract the attention of the little girl's family and dog who are out searching for her. The story ends with both little ones safely returned to their families. Cordell's story is basically wordless aside from a few howls and huffs from the little ones; expressive faces and beautiful colors tell the story. Kids might make comparisons to Little Red Riding Hood but I think the little girl's coat color is a coincidental choice since red stands out in the white snowstorm. Help them find the beauty in the story's kindness and they will want to read it again and again. THOUGHTS: A simple story that will find a happy home in most libraries.
Picture Book        Lindsey Long, Lower Dauphin School District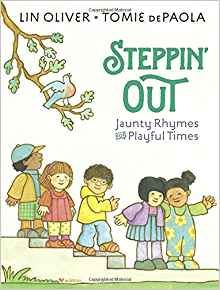 Oliver, Lin and Tomie DePaola. Steppin' Out: Jaunty Rhymes for Playful Times. Nancy Paulsen Books, 2017. 978-0-399-17434-6. Unpaged. $17.99. Gr. Pre-K – 2.
What awaits eager children when they step out of their homes in the morning? A world of possibility and exploration, of course! Set to simple, catchy rhythms and rhymes by Lin Oliver, we journey to the library, the mall, the car wash, relatives, the playground and more. The classic art style of Tomie DePoala captures a wonderful array of children's faces and colorful scenes which bring the poems to life. Many of the quatrains and free verse will have you tapping out the rhythm as you read – which is exactly the point of the journey. So step out of your usual poetry collection and step into familiar yet new world of an early learner.  THOUGHTS: This would go well with Kindergarten or Pre-school units about towns and places. It also does an outstanding job of representing diverse children in the illustrations; even while the poems remain fairly neutral in their voice. Classic DePaola at work!
811, Poetry    Dustin Brackbill, State College Area SD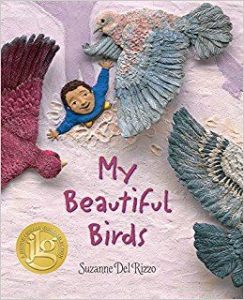 Del Rizzo, Suzanne. My Beautiful Birds. Pajama Press Inc., 2017. 978-1-77278-010-9. Unpaged. $17.95. Gr. 1-3.
The memories of a child refugee are often full of fear, confusion, uncertainty, and sadness. When Sami escapes from his Syrian village, those feelings are there, as well as concern for his beautiful pigeons that he kept as pets. The birds couldn't flee with them, but Sami holds onto the belief that they got out safely. The worry keeps Sami from adapting to his new surroundings, until some new birds arrive one day and bring the most important need for refugees: hope. Suzanne Del Rizzo, a Canadian author and artist, does a remarkable job of capturing the thoughts of Sami in limited text and bringing the visuals to life with amazing clay, acrylic, and mixed media scenes. The details of the artwork along with the heartfelt topic make this a beautiful story that you won't soon forget.  THOUGHTS: The afterword by the author reminded me that there aren't many books to explain the life of a refugee for younger readers. There is much to their lives that kids can connect  and empathize. Plus, an art teacher would have to be captivated by this conceptual creation!
Picture Book    Dustin Brackbill State College Area SD