Miller, Linsey. Mask of Shadows. Sourcebooks, 2017.  9781492647492. 352 pp. $17.99. Gr. 8 and up.
Orphaned street thief, Sallot Leon, is permitted to enter the audition to become the next member of the Left Hand of the Queen, a group of four assassins who serve as advisers and protectors of the throne. These four are named for the gems of the rings worn by the Queen: Ruby, Emerald, Amethyst, and Opal. When the last Opal is killed, Sal and 22 others compete to gain the position which will elevate the winner to enjoy the riches, security, and honor that will come with a new noble status. Borrowing heavily from titles such as Hunger Games and Throne of Glass, the plot follows the Auditioners, who must fight to the death to earn the coveted spot at court. The 22 contestants are virtually indistinguishable from one another with no real character development for any of them; each are masked for the competition and known only by their assigned numbers.  Sal, now known as Twenty Three, wishes to leave a life of thievery behind but also has a hidden agenda to avenge the destruction of her homeland and people. In one of the more original and interesting aspects of this tale, Sal's character is gender fluid and prefers to be addressed by the pronouns of "they" and "them". Unfortunately, the gender identity for Sal seems to revolve around what clothing they are wearing that day. A romance with a noblewoman who serves as a tutor for the Auditioners unfolds and the sexuality between the two is presented matter of factly.  The only obstacle to such a romance in this world is Sal's lower-class status, which would change if they win the contest. Mask of Shadows details the growing violence and intrigue between the Auditioners, as the competition advances and many of these scenes are gripping, violent, and gory.  But overall, the story lacks strong character development and the world building is not fully realized. Sal's backstory is only briefly visited and there is no real explanation or insight into the magic and shadows which caused the destruction of the old-world order, or the war between the kingdoms that led to the current shaky political reality.  THOUGHTS: This YA fantasy with a strong gender-fluid character has an interesting premise and action-packed competition sequences. A secondary purchase for fans of violent fantasy.
Fantasy          Nancy Summers, Abington SD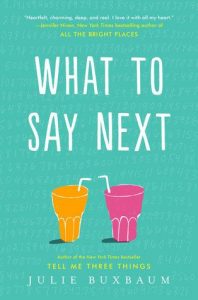 Buxbaum, Julie. What to Say Next. Delacorte Press, 2017. 978-0-553-53568-6. 292 pp. $17.99. Gr. 9-12.
Julie Buxbaum, author of the very enjoyable Tell Me Three Things, returns with the even better What to Say Next! David Drucker is a little unusual. He's brilliant but awkward in social situations; he's a diligent fan of order and routine, and he was once diagnosed with Asperger's (but that's just a label). He also keeps a notebook full of lists, rules, and notable encounters with his classmates at Mapleview High School. He's got a particularly detailed entry on Kit Lowell, who attended his childhood birthday parties and smiled at him when their names were announced as Mapleview's only National Merit semifinalists. Now, after 622 days of eating lunch alone, David is joined by Kit, whose father died in a car crash just one month ago. None of Kit's popular friends know what to say or how to act around her, and David's bluntness is a welcome change of pace. When David's notebook is stolen and posted online, followed by the reveal of two huge Lowell family secrets, the opposites-attract couple needs each other more than ever.  THOUGHTS: This winning, dual perspective novel focuses on the "friend" in girlfriend and boyfriend relationships. It's a perfect choice for fans of realistic romance with a serious side, such as Everything, Everything by Nicola Yoon and When We Collided by Emery Lord.
Realistic Fiction     Amy V. Pickett, Ridley School District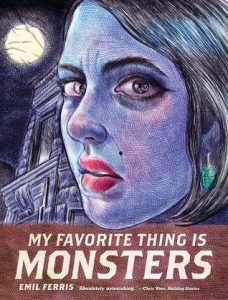 Ferris, Emil. My Favorite Things is Monsters. Fantagraphics Books, 2017. 978-1-60699-696-2. unpaged. $39.99. Gr. 10 and up.
Emil Ferris' mind-bogglingly good graphic novel, My Favorite Thing is Monsters, hinges on the murder of Anka Silverberg, who is shot and killed in her apartment. Her downstairs neighbor, 10-year old Karen Reyes (an unusual girl who identifies with comic book monsters) decides to put on her detective hat and crack the case. In late 1960s Chicago, suspects abound. Anka's personal history, depicted through tape-recorded interviews and an extended story within the story, reveal a damaged woman with a haunted past. Karen, meanwhile, longs to be changed into a werewolf so that she can "turn" and somehow save her own dying mother. One serious drawback: even after finishing this doorstop of a debut (which introduces a new mystery in the final pages), readers will have to wait until 2018 for Volume 2 and a resolution to the mysteries. THOUGHTS: This is a unique reading experience that raises more questions about monsters than it answers, and does so with beautiful style. Mature themes such as prostitution and violence are depicted visually, so this is recommended for older teens.
Graphic Novel     Amy V. Pickett, Ridley School District
Taylor, Laini. Strange the Dreamer. Little Brown, 2017. 978-0-316-34168-4. 544 pp. $18.99. Gr. 7 and up.
A city with no name. A boy with no past.  A girl with no future.  Though it sounds bleak, Laini Taylor's newest novel, Strange the Dreamer, is a magical, imaginative, heartbreaking story that will leave readers on the edge of their seats.  Lazlo Strange is an orphan, and a dreamer, with little memory of his childhood, save for the day that the name of the city was taken from him, and replaced with the name "Weep." Consumed with a desire to know more, Lazlo, through an accident of fate, becomes a librarian, and garners all he can about the enigmatic city, including its language. When an entourage from Weep arrives, looking for people to come help solve a mysterious problem, Lazlo jumps at the chance. Meanwhile, in Weep, Sarai, a blue-skinned demi-goddess, is stuck; she and her three companions are trying to navigate an increasingly grim future by using their gifts, bestowed upon them by their god and goddess parents. Sarai is a dream walker, but uses her abilities to bestow nightmares on the people of Weep, punishing them nightly for their treachery.  When Sarai enters Lazlo's dream, it unleashes an unexpected and intense series of events that will forever change the lives of the dreamers, and all of those around them. THOUGHTS:  I absolutely loved this book.  Laini Taylor has really come into her own as an author, and this is a much more nuanced, sophisticated novel than her previous efforts.  While the romance between Sarai and Lazlo feels a little rushed, the world-building, the characters, the setting, and the tension between characters makes up for it ten-fold.  Highly recommended to all fantasy lovers.
Fantasy     Lauren Friedman-Way, The Baldwin School
Laini Taylor, author of the fantastic Daughter of Smoke & Bone series, is back with another incredible fantasy novel. Orphan Lazlo Strange works as a junior librarian and spends his days researching and dreaming. Since childhood, he has been obsessed with the lost city of Weep, a city which most of his peers claim is simply a legend. One day, a mythical Godslayer visits the library, and Lazlo finds an opportunity to go searching for his beloved lost city. In Weep, Lazlo finds his dreams haunted by a beautiful blue-skinned girl. Who is she, and why can they see and speak to one another? The mysteries of Weep deepen, and Lazlo finds himself embroiled in a centuries-old war between gods and mortals. This is truly a spectacular, lyrical story that will appeal to all fantasy readers. THOUGHTS: Taylor is an incredibly talented writer, creating a vast world with true to life characters and words that jump off the page. Fantasy fans will adore this and clamor for the next book in the series.
Fantasy     Vicki Schwoebel, Friends' Central School