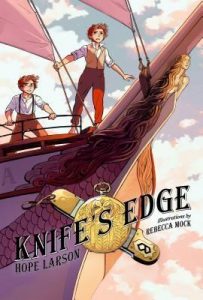 Larson, Hope. Knife's Edge (Four Points series). Farrar Straus Giroux, 2017. 978-0-374-30044-9. 224 p. $19.99. Gr. 4-8.
My students and I have been eagerly awaiting the second installment in the Four Points series, and it's finally here! The first book in the series, Compass South, finds twins Cleo and Alex Dodge searching for their lost father as they try to survive as street orphans in 1860. At the end of the first adventure, they're reunited with their father and realize that their family heirlooms, a knife and compass, create a treasure map. In Knife's Edge, Cleo and Alex learn that their birth parents were both pirates and the treasure they seek is a pirate's bounty. They reluctantly agree to help old friend/nemesis Luther escape pirate Felix Worley who is hunting the twins and their treasure. Cleo and Alex both work to find their place aboard the Almira with wise captain Tarboro as they sail to find the treasure and meet many dangers along the way. Like the first book, Knife's Edge takes readers on a trip to many distant shores, including Honolulu, HI, and the Marshall Islands. The twins and Tarboro's crew eventually meet up with Worley and his gang in a tropical jungle where they battle it out for treasure rights. The second book in the series ends with a surprise appearance on the last page, foreshadowing the twins' next adventure. Rebecca Mock's illustrations and graphic style are easy to follow, brilliantly colored, and full of drama. THOUGHTS: Larson and Mock's collaborations combine edge-of-your-seat action, family love and history, and lots of adventure. A winner.
Graphic novel, Action/Adventure               Lindsey Long, Lower Dauphin School District
Lisle, Janet Taylor. Quicksand Pond.  Atheneum, 2017.  978-1-4814-7222-7.  240 p.  $16.99  Gr. 4-8.
Jessie Kettel is spending the summer with her family in Rhode Island, where their promised waterfront beach house turns out to be a ramshackle cottage on an overgrown pond. Jessie doesn't mind, especially when she finds a raft, and even better, a friend, Terri, who helps her fix it up. Terri's father is an alcoholic and abusive, and she often spends nights alone in the woods to avoid his temper, but she wants Jessie's friendship not her pity. Terri entertains Jessie with local tales about children swallowed up by the quicksand and a long-ago double murder that led to the wrongful conviction of her own grandfather. The girls develop a close bond, but the relationship starts deteriorating when Jessie hears rumors that Terri may be involved in something illegal. At first, Jessie stands up for her friend, but eventually, frightened she is getting in over her head, she pulls away. Jessie struggles to hold on to what she feels to be right, even as those around her make judgments based on false assumptions that stem from class and social prejudices. Woven into the girls' stories is the story of an old woman who is the only witness of the long-forgotten murders. THOUGHTS: This is a gripping novel, with a sensitive, nuanced portrayal of issues relating to classism, as well as the flaws in our criminal justice system. The characters, including many of the secondary characters, are well-developed and memorably distinct.  Not to be missed.
Realistic Fiction           Maggie Bokelman, Cumberland Valley SD
Kelly, Erin Entrada. Hello, Universe.  Greenwillow, 2017. 978-0-06-241415-1. 313 p.  $16.99  Gr. 4-7.
Hello, Universe is written from the point-of-view of four middle school students whose stories converge after one of them is trapped at the bottom of the well.  Painfully shy Virgil Salinas feels like an outsider even in his own family.  However, he has a special relationship with his Filipino grandmother, who shares hilariously macabre folk stories that later give him strength while he hopes and waits for rescue. Kaori Tanaka is a third-generation Japanese-American with plenty of bravado who has started a business as a psychic for kids (so far, Virgil is her only customer).  Virgil has a secret crush on a deaf girl, Valencia Somerset, who is outgoing and well-adjusted, but lonely after being abandoned by her best friend.  Chet Bullens, the school bully, has a father who belittles him and teaches him that winning at any cost is what is important; it is Chet's cruelty that indirectly sends Virgil plummeting down the well.  Kaori insists that Virgil's rescue and meet-up with Valencia have been engineered by the universe, and ultimately, it is hard for either Virgil or Valencia to argue with her.  THOUGHTS:  This is a beautifully written book with unique, diverse characters. Whether or not readers agree with Kaori about the role of fate, they will enjoy seeing how separate threads eventually weave together to make a single story.
Realistic Fiction            Maggie Bokelman, Cumberland Valley SD
Standish, Ali. The Ethan I Was Before.  HarperCollins, 2017. 978-0-06-243338-1. 352 p.  $16.99  Gr. 4-8.
Ethan is devastated after the loss of his best friend to a horrific accident he blames himself for.  To give Ethan a fresh start, his parents move the family from Boston to the tiny Florida town where Ethan's grandfather lives. Ethan soon makes a new friend, the fiesty Coralee, who is battling demons of her own.  Still, the crushing guilt Ethan carries threatens his relationships with everyone and everything he loves.  On top of that, his grandfather and mother are barely speaking, and his brother, who loved their old life, is seething with anger.  Another crisis helps Ethan and his family and friends learn to trust and support each other rather than continue shutting each other out. THOUGHTS:  Despite the serious themes, there is humor and lightness here too, and the writing is first-rate.  Highly recommended for middle school libraries.
Realistic Fiction              Maggie Bokelman, Cumberland Valley SD