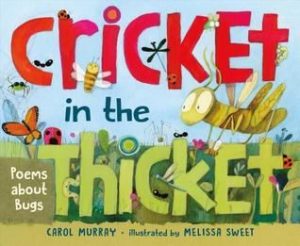 Murray, Carol.  Cricket in the Thicket: Poems about Bugs.  Henry Holt and Company, 2017.  9780805098181.  40 Pgs.  $17.99. Gr. 1-5.
In this collection of mostly rhyming poems, Murray has focused on the subject of bugs.   There is one poem per page, each about a different insect. In addition, the poet includes some facts about these insects at the bottom of the page. There is additional information in the back matter.  Melissa Sweet's watercolor and mixed media illustrations are whimsical and fit well with the humorous tone of the poems.  For instance, in the cockroach poem, she writes "I am not loved at all, I'm not like any other.  But surely someone cares for me.  I think it is my mother." This work is reminiscent of Joyce Sidman's Song of the Water Boatman, but Murray's work seems designed for a younger audience.  This book could be classified in either the poetry or the 595 Dewey section.   THOUGHTS: This book is a good choice for elementary libraries.  It would work well in insect units and provides a different perspective.  Children could be encouraged to write their own poems about insects.
811.54  Poetry      Denise Medwick, West Allegheny SD
Smith, Matthew Clark. Lighter Than Air. Candlewick Press, 2017. 9780763677329. $16.99. 32p. Gr. 1-4.
Lighter Than Air: Sophie Blanchard, the First Woman Pilot is a picture book about the first woman balloonist. Sophie Blanchard married a famous French balloonist and took a few rides with him. It wasn't long before she made her first solo flight to the chagrin of some people who thought women were too delicate to fly in a balloon. After a tragedy that took the life of her husband (handled appropriately for the book's audience), Sophie takes to the skies again and ends up supporting herself by ballooning. She was so famous Napoleon made her Aeronaut of the Official Festivals. THOUGHTS: The publisher rates this book as suitable for 1st through 4th graders. This book's vocabulary is too difficult for 1st/2nd graders to read and comprehend, but the content would be enjoyed as a read-aloud. I learned quite a bit about ballooning while reading this book, but it does mention the husband having a heart attack and falling from his balloon and then later dying from his injuries. The author's note details Sophie's eventual death when a firework she was lighting while in the balloon set the balloon on fire leading to her falling and death. Pretty intense for some 1st graders.
Biography      Bridget Fox, Central Bucks SD
Meisel, Paul.  My Awesome Summer by P. Mantis.  Holiday House, 2017.  9780823436712. Unpaged. $16.95.  Gr. K-3.
This is an interesting entry into the world of creative nonfiction.  Meisel takes us on a journey through the life cycle of the praying mantis, told from the point of view of the insect.  The story takes us through three seasons and begins in May with P. Mantis' birth and ends in October. Throughout the text, the insect tells us how and what he eats (sometimes his brothers and sisters!) and how he protects himself through the use of camouflage and by staying still.  P. Mantis tells his story in a humorous and accessible way for young children.  For instance, he remarks that he is "Praying?…Yeah, I'm praying…praying something tasty comes along that thinks I'm a stick." At the end of the bug's life, Meisel gently tells the reader that he is going to sleep. The author's illustrations show a friendly looking insect drawn on a small scale throughout the story. It appears larger in the author's note where Meisel labels the body parts. The back matter gives more details on the life cycle of mantises and some additional terminology.  One problem is that the author lists a few websites with just the URLs and no titles.  The glossary contains only two terms.  THOUGHTS:  Despite these concerns, this book is a worthy addition to the insect section in elementary libraries and will make for a great read aloud. There is a good bit of information found here and the creative presentation will engage the reader.  Children will be inspired to learn more about this unique insect.
595.727 Bugs             Denise Medwick, West Allegheny SD
Eggers, Dave. Her Right Foot. Chronicle Books, 2017. 978-1-4521-6281-2  Unpaged. $19.99.  Gr. K-8.
Much has been written about the Statue of Liberty, but never before has a book focused on the iconic Lady's right foot. Dave Egger includes all the usual facts about the statue, which has more pages than most picture books, but just a pithy sentence or two per page. The reader learns, for instance, that the statue was put into 214 crates when it was brought from France to the United States, and that it was brown for two years before it oxidized and turned green. However, Eggers goes on to note ("a point the author apologizes for taking so long to get to") that the Lady's right foot is in motion. He asks the reader to ponder where she is going, suggesting humorously that it might be "to the West Village to look for vintage Nico records."  But then he offers a more logical idea, the Lady is in motion because "liberty and freedom are not things you get by standing around like some kind of statue."  Eggers suggests that the Lady is hurrying to welcome all of the people coming to America from many different places and times. Appropriately, Shawn Harris's artwork depicts peoples of varying ethnicities, colors, ages, and religions. THOUGHTS: Humorous and quirky, written with a light touch, this book imparts a serious, timely, and important message about the value of immigrants and the long and pivotal role immigration has played in the United States.  It is appropriate for a wide span of ages (even adults will appreciate it), and Harris's bold, collage-style artwork suits the text perfectly. Highly recommended for elementary and middle schools.
973, United States History          Maggie Bokelman, Cumberland Valley SD