Cooper, Elisha. Big Cat, Little Cat. Roaring Brook Press, 2017. 9781626723719. Unpaged.  $16.99. Gr. 2-5.
Using simple drawings with lots of white space and spare text, author-illustrator Elisha Cooper has written a quiet gem of a book that tells the story of a friendship between two cats. We first meet a single household cat who keeps busy exploring, playing, and eating.  His life changes when a kitten joins the family, and the two cats quickly becomes friends.  The older cat serves as a mentor to the kitten and shows him how to eat, rest, and play.  Time passes and the kitten grows into a cat.  The two animals continue to have fun together, until the older cat gets sick.  Using poignant text, the author tells us about the passing of the cat in a way that is accessible to young children; "He had to go…and he didn't come back. And that was hard."  Coming full circle, a new kitten once again appears in the house soon after, and the cycle continues of mentor and friend. The illustrations are an important part of the story.  Cooper uses a black and white color palette and artistically juxtaposes the color of the fur of the three cats. This creates a striking image as the pairs sit next to each other, white cat next to black cat.  The drawings are simply without much detail, and the human family appears on only one page, which is right after the death of the older cat. We see them as shadows on a gray page as the younger cat sits off to the side.  This double page spread paints a strong visual image of grief.  THOUGHTS:  This understated book is a real winner and will be savored by children who love cats. They will enjoy listening and reading it again and again.  Parents may wish to read this book to their children who have experienced the loss of a pet.  After reading this book aloud, it can also lead to a discussion about friendship.   Cooper's text is a great addition to elementary collections
Picture book                Denise Medwick, West Allegheny School District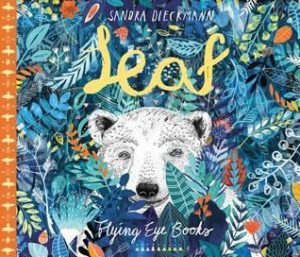 Dieckmann, Sandra. Leaf. Flying Eye, 2017. 978-1-911171-31-7. Unpaged. $17.95. Gr. K-1.
In Leaf, debut author/illustrator Sandra Dieckmann tells the story of an unnamed polar bear who washes ashore on the edge of the woods. The other animal residents of the woods are quite scared; they have never encountered a polar bear before! They are also confused by the bear's habit of collecting leaves. As the days go by, the woodland creatures debate about how they should handle their new neighbor. The situation comes to a head when they witness the polar bear cover himself in leaves and jump off a hill and a cliff before crashing back to ground. Spurred to conversation, the other animals learn that the bear drifted across the sea due to the melting of the ice. He was using the leaves in an attempt fly back home. As the story draws to a close, the animals have banded together to help the polar bear return home. THOUGHTS: This is a lovely story about the importance of friendship and inclusion that also incorporates the concept of climate change and it's impact on animals. The color of the illustrations spring from the page and draw readers into the world of the animals. A great choice for collections serving younger readers.
Picture Book     Elizabeth Henry, Lampeter-Strasburg School District
Elliott, David. Baabwaa & Wooliam. Candlewick, 2017. 978-0-7636-6074-1. Unpaged. $16.99. Gr. K-3.
Baabwaa & Wooliam are best friends (and sheep!). Wooliam loves to read while Baabwaa enjoys knitting. One day, they decide to go on an adventure and set off through the surrounding fields. As they are finishing lunch,  a third sheep approaches. But, as the sheep gets closer, they realize it is really a wolf in sheep's clothing! Wooliam shouts that it must be the wolf he has read about, and he and Baabwaa take off running. They are quite surprised when the wolf stops chasing them and wants to talk about the wolf story Wooliam had mentioned. They soon quickly realize that the wolf is unfamiliar with wolf stories because he cannot read. Wooliam decides to teach the wolf to read (while Baabwaa knits him a new sweater). As the story draws to a close, a unique friendship has developed between three animals. THOUGHTS: This humorous tale of unexpected friendship would make a great read-aloud for any classroom or library. Sweet (a past Caldecott Honor honoree) enhances the text with her watercolor, gouache and mixed media illustrations that bring the personalities of sheep and wolf to life. Highly recommended for picture book collections.
Picture Book      Elizabeth Henry, Lampeter-Strasburg School District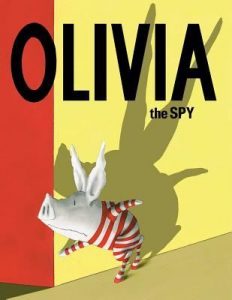 Falconer, Ian. Olivia the Spy. Atheneum Books for Young Readers, 2017. 978-1-4814-5795-8. 36pp. $17.99. Gr K-3.
Olivia usually does her best to stand out from the crowd, but in her latest title, she has a new mission: blending in whenever possible. After overhearing her mother's phone conversation detailing Olivia's mishaps with the blender (blueberry smoothie all over the kitchen) and the laundry (two red socks dying all her father's shirts pink), Olivia decides to go undercover to determine what else her family really thinks about her. While eavesdropping, she hears her father mention an 'institution,' and Olivia is sure he is planning on sending her to prison. The comical reality of her father's words play out against a stark white background, allowing Falconer's trademark pencil and charcoal illustrations to shine. Bright pops of color, including a brightly lit cityscape and an illuminated ballet theatre, add to the story's drama.  THOUGHTS:  Olivia fans will not be disappointed with this latest addition to the series. During her eavesdropping, Olivia overhears some information and incorrectly interprets it, opening the door for teachers to discuss the ethics of listening in on other people's conversations.
Picture Book      Anne Bozievich, Southern York County SD