Holm, Jennifer L. and Matthew Holm. Swing it, Sunny. Scholastic, 2017.  978-0-545-74172-9. 218p. $12.99.  Gr. 4-7.
Set in the 1970's with many pop culture references, this graphic novel will pull on the heartstrings of many readers who grew up when Sunny did.  Sunny is facing life without her older brother, who has been sent to boarding school because of behavioral issues. This focuses on Sunny's home life, her next-door-neighbors, and special occasions. Any reader who has an issue at home that is out of their control will relate to Sunny's conflicting thoughts about her brother. THOUGHTS: Many of the cultural references will go unnoticed by its intended audience, though parents and teachers will enjoy the references to television and fads of 1976-77.  Fans of Sunny Side Up will want this additional title.
Graphic Novel        Toni Vahlsing, Abington Friends School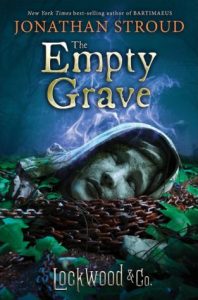 Stroud, Jonathan. The Empty Grave. Disney Hyperion, 2017.  978-48477872-2. 436 p. $16.99.  Gr. 4-8.
In this fifth installment in the Lockwood & Co. series, Lucy and her friends at Lockwood and company are close to solving the mystery of what started "The Problem." For sixty years, London has been plagued with ghosts and paranormal activity.  Only some children can see the ghosts, though people of all ages can be killed by their touch.  It is up to agencies of children to rid London of its ghosts.   This book is filled with daring adventure and some really smart strategies. The characters have grown and changed over the series, and even the minor characters prove to have more depth than expected.  The ending is satisfying, but still leaves the reader with hope and a little intrigue.  THOUGHTS: If you have not read or purchased any books from this series, do so! This is not a simple children's story and has a lot of sophisticated vocabulary that will entice and delight the quirky readers that this series enthralls.
Fantasy, Action/Adventure     Toni Vahlsing, Abington Friends School
Nix, Garth.  Frogkisser!.  Scholastic, 2017.  978-1-338-05208-4. 372 p.  $18.99.  Gr. 4-8.
Princess Anya lives with her evil stepfather, Duke Rikard,  who is also an accomplished sorcerer.  She is sure he has a plan for keeping the crown from her sister, Morven, who is about to become queen.   Duke Rikard turns Morven's boyfriend into a frog.  Anya becomes involved in a long adventure transforming animals into humans and vice versa.  She is assisted by a loyal dog and a librarian who turns into an owl when frightened.  Anya is a smart, strong princess who can save not only herself, but her whole kingdom.  Nix's sense of humor shines through this tale full twists and turns.   THOUGHTS: A great purchase for middle grade girls who like princess stories as well as any fantasy fan.
Fantasy, Action/Adventure     Toni Vahlsing, Abington Friends School