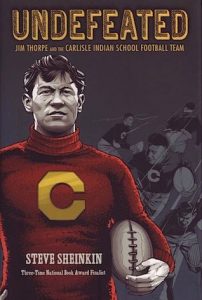 Sheinkin, Steve. Undefeated: Jim Thorpe and the Carlisle Indian School Football Team. Roaring Brook Press, 2017. 978-1-59643-954-2. 280 p. $19.99. Gr. 7-12.
Known for his fast-paced and fascinating nonfiction narratives, Sheinkin delivers another well-researched, action-packed story in his newest title. In it, he ties together not only the story of Jim Thorpe and the Carlisle Indian School football team, but also the stories of American football, Pop Warner, and Native American relations throughout U.S. history.  Sheinkin begins by providing biographical information about the early lives of Jim Thorpe and Pop Warner, as well as background information about the attitudes of white Americans towards Native Americans at that time and the founding of the Carlisle Indian School.  The lives of Thorpe and Warner ultimately intersect when Warner becomes Thorpe's football coach at Carlisle, at which point the action really picks up.  Sheinkin moves season-by-season through Carlisle's football history, explaining how its innovative coaches and players helped to modernize the game of football as we know it today, all while passively ignoring acts of discrimination like one-sided officiating and racist headlines.  Reading like a Hollywood underdog story, but sprinkled with factual information about the history of football and Native American relations, this title is a must-have for any school library.  THOUGHTS: Having read and enjoyed some of Sheinkin's past award-winning titles, I was looking forward to reading this one, and he did not disappoint.  Sports fans, history buffs, and readers of biographies alike will find this book absolutely riveting.  It could be used in a classroom setting to spark discussion about racism and discrimination or paired with a fiction title like Joseph Bruchac's Code Talker for a unit on Native American history.
796.332 Football; Native Americans      Julie Ritter, Montoursville Area SD
Georges, Nicole J. Fetch: How a Bad Dog Brought Me Home, a Graphic Memoir. Mariner Books, 2017. 978-0-544-57783-1. 314 pp. $17.95. Gr. 10+.
At sixteen, Nicole Georges adopted a shar pei/dachshund mix puppy as a surprise for her boyfriend, Tom. Beija was meant to cement their bond and heal Tom's childhood wounds, but the real bond formed between Nicole and her dog. A move to Portland and a break-up later, Nicole knows full well that Beija is no ordinary, well-behaved pet. She's almost comically bent on misbehaving: baying, marking, and growling at all the wrong times and with all the wrong people. Nonetheless, she is Nicole's beloved co-pilot through the generally painful process of growing up (and coming out), with the inevitable heartbreaking goodbye at the book's end. Nicole's journey through her teens and twenties is depicted in the author's sharp, wonderfully expressive black-and-white illustrations. Beija in particular is lovingly drawn and charismatic. THOUGHTS: Equal parts soul searching and soul baring, Fetch is every bit as good as David Small's Stitches and Ellen Forney's Marbles, with the bonus presence of an unforgettable canine companion.
Graphic Memoir     Amy V. Pickett, Ridley School District