Patterson, James and Chris Grabenstein. Pottymouth and Stoopid. Little, Brown and Company, 2017. 978-0-316-34963-5. $13.99. 305 p. Gr. 3-6.
Michael and David have been best friends since preschool. Both have corrosive nicknames bestowed on them by cruel peers and thoughtless teachers. David was tagged as Stoopid in preschool; Michael, due to his penchant for inventing outrageous words, was dubbed Pottymouth by a substitute teacher in third grade. Now the two boys, along with their friend Anna, suffer through school, tormented by their classmates and scorned by teachers for their over-the-top imagination and restlessness. But everything changes when a new TV show airs, based on the antics of the boys and their friends. Even though the show is wildly popular, it only aggravates tensions at school, until David learns his "ex-dad" is behind the show. Eventually, the boys achieve fame for all nerds and see the bullies cut down. Both boys come from challenging home lives; Michael is in foster care, and it is eventually revealed they both test as geniuses, causing trouble because they are bored in school. Teachers and administrators are uniformly portrayed as incompetent at best, cruel at worst. But students will love the potty humor and sweet revenge of the story. THOUGHTS: Patterson and Grabenstein know how to write to their audience.  While many parts of the book made me cringe, young readers will relate and thoroughly enjoy the book.  A great step up for Captain Underpants fans.
Realistic Fiction; Humor     Nancy Nadig, Penn Manor SD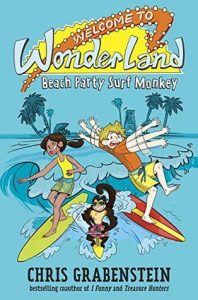 Grabenstein, Chris. Beach Party Surf Monkey. Random House, 2017. 978-0-553-53610-2. $13.99. 301 p. Gr. 3-6.
Entertainer extraordinaire and part-time detective P.T. Wilkie is back in this second entry to Chris Grabenstein's Welcome to Wonderland series. P.T. and his friend Gloria are on a mission to have a new beach party revival movie filmed at his family's St. Pete Beach, Florida, motel. The pair prove successful, but that's when the real problems start. The teen pop idol star can't act and has no chemistry with his Oscar-winning female costar. Plus, someone is out to sabotage the movie. Could it be the owner of the mega-hotel next store who is pressuring P.T.'s mom to sell the Wonderland Motel? P.T. and Gloria have their hands full trying to keep the movie on schedule, determine the culprit behind the dirty deeds, and control You-Tube star Kevin the Monkey. Can the creative pair of friends save the movie and the motel?  THOUGHTS: A delightfully fun read from funny guy Grabenstein. Hijinks and mayhem abound, and will keep students entertained to the last page.
Realistic Fiction, Mystery     Nancy Nadig, Penn Manor SD
Giff, Patricia Reilly. Genevieve's War. Holiday House, 2017. 978-0-8234-3800-6. $16.95. 222p. Gr. 4-8.
Genevieve and her brother, Andre, were spending the summer of 1939 with their Alsatian grandmother at her farm in France near the German border. Andre leaves early to return home to the States, but when it is time for Genevieve to leave, she surprises herself by impulsively deciding to stay. Genevieve was not particularly drawn to her dour grandmother, but she is concerned for the elderly woman on the eve of the German invasion. The two become dependent on each other as German troops establish themselves in the town and a German officer billets himself at the farmhouse. As time passes, Genevieve and her grandmother grow close as they attempt to eke out an existence in the ravaged village, and Genevieve learns about the father she never knew. The stakes become even higher when Genevieve hides an injured member of the resistance in their attic. THOUGHTS : A beautifully crafted, suspenseful story that immerses the reader in daily life in wartime France deftly conveying the suspicion that takes over the community as no one knows who to trust.
Historical Fiction     Nancy Nadig, Penn Manor SD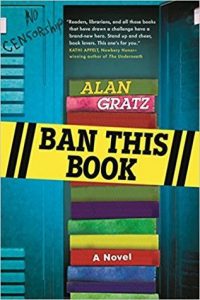 Gratz, Alan. Ban This Book. Tom Doherty, 2017. 978-0-7653-8556-7. $15.99. 243 p. Gr. 3-6.
Quiet fourth grader Amy Anne is appalled to learn her favorite book, From the Mixed Up Files of Mrs. Basil E. Frankweiler, has been banned from her school library. A classmate's mother felt the book promoted lying, stealing, and running away from home, and the school board vindicated her claim. Amy Anne goes to the board meeting but is too shy to speak up. Soon additional books disappear from the library. Starting a one-girl protest, she begins to read the banned books, then shares them with her classmates. Soon, the Banned Book Locker Library is born with the illicit books quietly passed around the school. Unfortunately, when the library is discovered, the school librarian is fired. The students come up with an ingenious plan to fight back and show the parent, as well as the school board, the innate folly of banning books. THOUGHTS: All librarians should treat themselves to this book (it's dedicated to librarians) with Gratz's knowledgeable treatment of the school book banning issue. For students, it's a great introduction to the topic. The book contains a Reading and Activity Guide in the back, making it great for a classroom read-aloud or lit circle.
Realistic Fiction     Nancy Nadig, Penn Manor SD