Anderson, John David. Posted. Harper Collins, 2017. 9780062338204. $16.99. 384p. Gr. 5-8.
Branton Middle School bans cellphones after a student gets caught posting during class about a teacher. The students have a difficult time being without their phones for the length of a school day, but a class assignment with Post-it notes is the catalyst for the students to start communicating via the small, sticky squares. Because the Post-it notes still allow for anonymity, some students begin to use them as a substitute for online bullying. The book deals primarily with Eric and his small group of friends, and the new girl, Rose. Rose is a large girl that adopts Eric's lunch table and friend group much to their dismay. Due to her size and her recent addition to the school, she becomes a target for some of the worst Post-it Note bullying. Fortunately, Rose is also a confident young woman and she encourages a positive change in the school.  THOUGHTS: I loved this book. It was fun and had a good, but non-preachy message – that words hurt. More importantly, it was a book that I have no qualms book talking to my 7th and 8th graders. It was realistic without the need for additional mature content.
Realistic Fiction    Bridget Fox, Central Bucks SD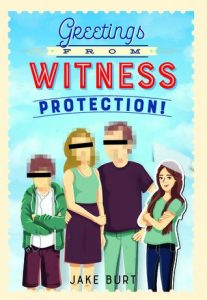 Burt, Jake. Greetings From Witness Protection. Feiwel & Friends.  2017. 978-1250107114. 368 p. Gr. 5-8.
Nicki , a thirteen-year- old girl in foster care, has a troubled past and an unfortunate case of kleptomania that has derailed several of her previous placements. She is back in the group home and desperate for a permanent home when she is unexpectedly selected to be part of a new placement in the witness protection program.  She must step into the role of the daughter in a family in hiding from the mob.  Nikki's new mom is a member of a notorious New York crime family and has recently turned state's evidence against her brothers and many others in the family.  She, her husband and son are now under protection, and Nicki joins the family to change the family profile  so that they may better escape detection. With her street smarts, quick wits and charming personality, Nikki hopes to keep her family safe and find a place for herself in her new  home. Filled with heart, humor, some typical girl drama at school, some sibling rivalry at home and an element of danger, it is an enjoyable and fast-paced read. Thoughts: With its strong and smart main character, Greetings is a great choice for middle grade readers. The frequent literary references will appeal to avid readers and the page turning plot will appeal to both reluctant readers and fans of adventure tales.  
Realistic Fiction             Nancy Summers, Abington School District
O'Brien, Anne Sibley. In The Shadow of the Sun. Arthur A. Levine Books, 2017. 978-0-545-90574-9  338 p. $17.99  Gr. 5-8.
Mia's father, a white humanitarian aid worker, has chosen to take Mia and her older brother Simon sightseeing in the unlikeliest of vacation spots: North Korea. Mia is willing to make the best of it, but Simon, who didn't want to go anywhere with his family, let alone to a country where Americans aren't allowed to use their cellphones, is furious. Mia, who is adopted, was born in South Korea, and soon finds it both unsettling and wonderful to be in a place where everyone looks like her. Then, the unthinkable happens: their father is arrested.  Simon and Mia have come into possession of illegal photographs depicting atrocities in North Korean camps that they fear may further endanger their father, so they decide to make a run for the Chinese border.  With only a few snacks Mia has stowed in her backpack, they must find a way to navigate through one of the most isolated and dangerous countries on the planet, all the while knowing they are being hunted. Simon and Mia must work on their own strained relationship in order to work as a team.  Additionally, Mia struggles with identity issues stemming from her adoption. Throughout the novel, the author weaves in short vignettes from the point of view of a variety of (fictional) North Koreans, providing a glimpse of what life is like for people who actually live there. The author has personal ties to South Korea and has clearly done extensive research, as is evidenced in the front and backmatter. THOUGHTS: This is an eye-opening but still age-appropriate introduction to a mysterious country that is particularly timely. Kids will enjoy the survival/adventure aspect of the novel. Of course, it isn't at all realistic that two American teenagers can escape North Korea with very little help, and although I'm all for suspension of disbelief, the final impression is that escape from North Korea is easier than it is.  Still, this is fiction, and interested readers will hopefully take the author's advice and seek out more information on their own.  Overall, a fascinating and gripping read.  
Action/Adventure               Maggie Bokelman, Cumberland Valley SD