Grimes, Nikki. Dyamonde Daniel (series). Puffin, 2017. $5.14 ea. (paperback). Gr. 1 – 3.
Almost Zero (Book 3). 978-0-425-28855-9.
Rich (Book 2). 978-0-425-28854-2.
Make Way for Dyamonde Daniel (Book 1). Puffin, 2010. 978-0-14-241555-9. $5.14 (paperback)
Halfway to Perfect (Book 4). G.P. Putnam's Sons, 2012. 978-0-399-25178-8. $9.49 (hardcover)
Dyamonde Daniel is a spunky, outgoing girl whose classmates go through a variety of difficulties. The topics that are brought feel genuine (being new in school, someone who lives in a homeless shelter, a classmate who loses everything in a house fire) to the story and are great discussion topics with students.  THOUGHTS:  Books 2 and 3 in this series are re-releases in paperback in 2017. Although not brand new to the publishing world, I still highly recommend these books. Finding early chapter books with such important topics and racially diverse characters are difficult. This series is a great addition to any library, no matter the publication date.
Easy Chapter Book, Realistic Fiction        Emily Woodward, The Baldwin School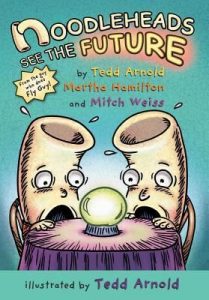 Arnold, Tedd et al. Noodleheads See the Future.  Holiday House, 2017. Unpaged. 9780823436736.  $15.95. Gr. 1-4.
Tedd Arnold has teamed up with Martha Hamilton and Mitch Weiss to create what seems to be a silly early chapter book about noodles. Quickly one realizes that there is more here than first meets the eye.  In a series of three short chapters, the reader learns about the antics of the hapless Noodlehead brothers, who take what is said to them literally, which leads to some humorous situations.  Mac and Mac also have problems with logical thinking. In one incident, they are sawing off a branch that they are sitting on.  They are amazed that their friend Meatball can "predict the future" when he tells them they are going to fall on their bottoms, which of course does happen.  In the back matter, the authors explain that their stories are based on the traditional "tales of fools," also known as noodle tales.  They discuss which folktales or motifs were the inspiration for the stories in this book. Arnold uses a graphic novel approach and his illustrations are over the top funny.  It is amazing how Arnold can make the faces of the noodle characters so expressive.  Children will laugh out loud at this pair and will eagerly await the next book. Thoughts:  This book would serve well in folktale units and is a good example of the noodlehead motif with a modern touch.  Children will enjoy reading this one on their own as well.
Early Chapter Book; Folktales      Denise Medwick, West Allegheny SD