Perkins, Mitali. You Bring the Distant Near. Farrar, Straus and Giroux, 2017. 9780374304904. $17.99 320 p.  Gr. 7 and up.
Told through the alternating voices of the Das sisters and their daughters, You Bring the Distant Near is the story of three generations of women in a Bengali family, who immigrated to the United States. The bond between Sonia and Tara Das is explored as they each struggle to find their own place in America, all while obeying the cultural traditions of their family. Supportive and united, each sister takes a separate path in life, which leads Tara to success as a film star back home in India and Sonia into a full embrace of an inclusive American culture and a happy interracial marriage in New York.  Their daughters, Chantal and Anna, in turn have very different upbringings, but all the threads of this family's disparate experiences come together when Anna is sent back to the US to finish high school.  Beautifully written with well-drawn and complex characters, the novel realistically portrays the nuanced relationships between the women.  The rich Bengali culture weaves through the three generations, influencing each of the women in different ways.  Thoughts: Strongly recommended as an addition to your collection of novels on the immigrant experience, filled with positive messages about acceptance, integration, and identity.
Realistic Fiction           Nancy Summers, Abington School District
Perkins, Mitali. You Bring the Distant Near. Farrar Straus Girox, 2017. 978–0374-30490-4 304p. $17.99.  Gr. 7 and up.
We hear the stories of five Bengali- American women in three different generations, spanning from the era of mini-skirts until just after the tragedy of 9/11.  Perkins weaves their stories together beautifully.  All of them question what it means to be Bengali or what it means to be American and each comes up with their own answers for themselves.  Some of the stories are heart-breaking, but most are easy to empathize with.  A family tree at the beginning is a good key, but because it is there, the long-term romances are easy to foretell if they will end in marriage.  THOUGHTS   This is a great book that will bring a diversity of characters to your library.  It is also a beautifully told story.
Realistic Fiction      Toni Vahlsing, Abington Friends School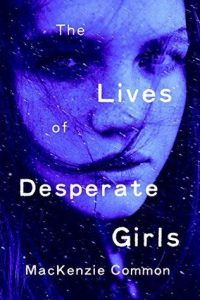 Common, MacKenzie. The Lives of Desperate Girls. Penguin Random House, 2017. 9780143198710. $16.99. 304 p. Gr. 9 and up.
Tragedy befalls two girls in rural Northern Ontario, but the reaction of the police and the public is different in each case.  When pretty and wealthy Chloe Shaughnessy goes missing the police investigate in earnest, and the townspeople hold vigils for her safe return. A few days after her disappearance,  the body of  Helen Commanda, a girl from the reservation, is found in the woods. There is no public outcry about this crime, and when the police find no obvious clues, her case is placed on the backburner.   Chloe's best friend Jenny, now friendless and depressed, becomes obsessed with Helen's murder and the entrenched racism against the natives in their town. Jenny takes up with the high school bad boy, and together they set out to discover what really happened on the night Helen died. But as the police continue to focus on Chloe's disappearance, Jenny is equally determined to protect Chloe's secrets. Thoughts: The novel broaches some serious issues including date rape, racism, and substance abuse, but the character and plot development fall a little short.  A secondary choice for older teens who appreciate realistic fiction with a hard edge.
Mystery        Nancy Summers, Abington School District