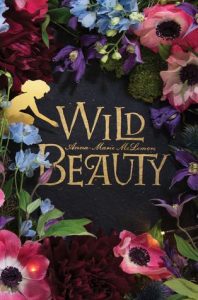 McLemore, Anna-Marie. Wild Beauty. New York: Feiwel & Friends, 2017. 978-1-250-122455-5. 352 p. $17.99. Gr. 8 and up.
Anna Marie-McLemore has become the undisputed queen of Magical Realism.  Her third book in as many years, Wild Beauty, is even more nuanced, sophisticated, and breathtakingly beautiful than her first two novels, and that is saying quite a lot.  Wild Beauty describes this story perfectly; it is a story about a family of women who have the ability – a compulsion, really – to grow flowers simply by reaching into the soil and willing them into existence.  As with all good stories, however, it is much more complex. Up until about a century ago, the Nomeolvides women had been persecuted, hunted, shunned, or killed because of their gifts. When they are offered sanctuary at La Pradera on the estate of the wealthy Briar family, they take it gratefully. It comes with a price, of course: the Nomeolvides women can never leave; if they try to escape, or outrun their destiny, they will die. La Pradera also takes their lovers; if a Nomeolvides woman loves someone too hard, they disappear. The current generation of cousins, Estrella, Azalea, Gloria, Calla, and Dalia, are all in love with the same girl, Bay Briar, and they are determined to keep her from disappearing. When they make a sacrifice to the land, the land gives them back a boy, a boy who can't remember how he got there, where he came from, or who he is. This is a story of love, betrayal, heartbreak, jealousy, but above all, family, and the lengths one will go to to protect those she loves. Thoughts: Every page of Wild Beauty is a sensuous, tactile, graceful dance, and while the steps can be challenging, it is absolutely well worth the effort.
Magical Realism      Lauren Friedman-Way, The Baldwin School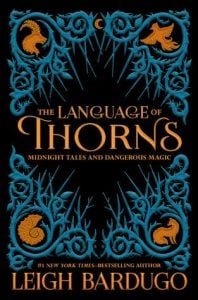 Bardugo, Leigh. The Language of Thorns: Midnight Tales and Dangerous Magic. New York: Macmillan, 2017. 978-1250122520. 288 p. $18.99. Gr. 8 and up.
Leigh Bardugo reimagines classic tales in her newest collection of stories, The Language of Thorns: Midnight Tales and Dangerous Magic. Each of the six stories are set in Bardugo's Grishaverse, but readers don't have to be familiar with that world in order to understand or appreciate them.  There is something warm and familiar about each, but with a dark, and often subversive, twist to them; these are stories meant to be read aloud around a roaring fire on a blustery evening; the lovely and whimsical illustrations by Sara Kipin add to the magic, as well. Every story here is a gem, but there are two standouts.  "Amaya and the Thorn Wood" is a spin on the Minotaur myth, with a hint of "Beauty and the Beast." Bardugo does a wonderful job playing with rhythm, repetition, and pacing; as it's a story about a storyteller, it's cleverly done. It is a story of two outcasts, both of whom are ostracized because of their looks, and both of whom are second-fiddle to their more attractive, more talented siblings. Through a shared love of stories, they redefine the idea of a "happy ending." "The Witch of Duva," a take on "Hansel and Gretel," challenges the tropes of the evil stepmother, and the child-snatching witch, and explores the ways in which women mistrust each other; it is richly told, and Bardugo once again utilizes repetition to great effect. The ending is exceedingly disturbing, but will hopefully imbue a sense of caution to any young person who reads it; at the very least, it will leave a lasting impression. A common thread throughout the book is the complexity and diversity of women; each tale forces the reader to confront their own preconceived notions of how women should behave. Thoughts: Give this to lovers of fairy tales, self-proclaimed feminists, and anyone who needs a wake-up call about a woman's place in society.
Fantasy     Lauren Friedman-Way, The Baldwin School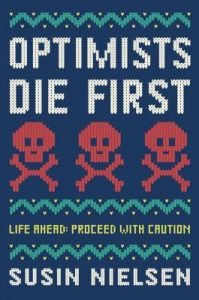 Nielsen, Susin. Optimists Die First. New York: Wendy Lamb Books, 2017. 978-0-553-49690-1. 240 p. $17.99. Gr. 7 and up.
Petula is scared of everything and spends her days thinking of the myriad ways in which people can be killed. Before the accident that killed her little sister, Petula was an average adolescent girl with a passion for crafting.  Petula, however, has never stopped blaming herself for what happened, and she has cut herself off from everything that reminds her of that time, including crafting, and her best friend. When Petula meets Jacob, a new boy with a prosthetic arm, a warm and open demeanor, and a tragic past of his own, her life slowly starts to knit back together. Jacob, however, is keeping a huge secret, and when Petula inevitably finds out, it completely alters the way she views him.  Nielsen does a wonderful job getting into Petula's psyche; the way her grief and guilt manifests will hit home to a lot of people.  Petula is constantly hounded by that little voice going "If only…," a voice that beleaguers everyone at some point in their lives.  Jacob's prosthetic is sensitively portrayed, and is only one small part of him; it does not define who he is.  THOUGHTS:  While the heavy emphasis on crafting may turn some people off, at its heart, it is a story about two lost, grieving souls finding each other, and finding joy.
Realistic Fiction    Lauren Friedman-Way, The Baldwin School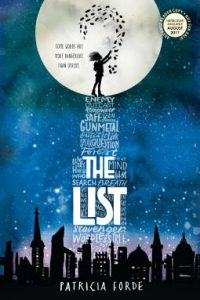 Forde, Patricia. The List. Sourcebooks Jabberwocky, 2017. 978-1-4926-4796-6 353p. $16.99.  Gr. 7 and up.
The Melting (of the icebergs) has happened and much of life as we know it has disappeared.  John Noa has set up a settlement he calls "Ark" where he tries to make sure humans survive by not making the same mistakes.  He thinks one of those is language, so he limits what people in Ark are allowed to say, by approving a "list" of words.  Letta, the wordsmith's  apprentice, is overwhelmed by the order to take more and more words off of the list.  At the same time, she is trying to preserve old wordsn her master disappears, leaving Letta to become the wordsmith.  She meets a boy who speaks more eloquently than the list will allow and Letta discovers much about the artists and others who are forced to live outside of Ark.   Letta has to make a lot of decisions that she never thought she would have to, much bigger than what words to take away from the citizens of Ark.  THOUGHTS: A book that will make everyone think about the importance of words, and of language, this would be a great purchase for libraries with lovers of fantasy, especially dystopian stories.
Dystopian     Toni Vahlsing, Abington Friends School
Forde, Patricia. The List. Sourcebooks Jabberwocky, 2017. 978-1-492-64796-6. 368 p. $16.99. Gr. 6 and up.
Ark is a gated post-apocalyptic community that only survives because of the extreme planning and strict rationing of John Noah, Ark's founding leader. With food, water, and even words strictly limited to only what is essential, life is not always easy. Sentences like "We ready now." and "I no wait." are considered speaking in List and take some getting used to. Reading List sometimes requires more than one glance. Letta lives in Ark and is the apprentice to the Wordsmith, a highly respected job. Almost immediately, her master Benjamin, the Wordsmith, heads out on a journey for a few days to hunt for new words to be preserved. This is considered a typical task of the Wordsmith. Letta is left behind to run the shop, where she transcribes boxes of List words for the Ark teacher, and creates special request List words for various trades.  Shortly after Benjamin leaves, an injured boy enters the shop, requesting a box of List words. Though she does not recognize him, Letta is intrigued by Marlo, and without thinking she quickly hides him before the gavvers (police or military equivalent) arrive. As she attempts to nurse Marlo back to health, Letta learns information about life outside of Ark, and she begins to question all she's ever known. Thus begins Letta's dissent from Ark.  THOUGHTS: As a former English teacher, my mind was racing with fun activities for using this book in the classroom: What words would be on your list? Could you figure out all of the words on Ark's list? Would you eliminate/add any words to Ark's list? The focus on the importance of words can lead to many great discussions, regardless of age. Though this book is marketed as middle grade, I could absolutely see using it in a high school classroom.
Dystopian   Maryalice Bond, South Middleton School District