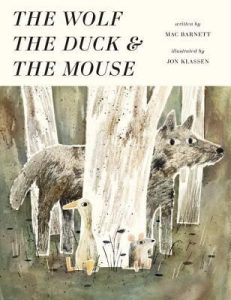 Barnett, Mac. The Wolf, the Duck, and the Mouse. Candlewick Press, 2017. 978-0-7636-7754-1. 40 pp. $17.99. Gr. K-3.
When a mouse is swallowed by a wolf, he thinks it's the end of the line. But, it turns out, it's just the beginning of his adventures. In the wolf's belly, the mouse meets a duck. The duck explains that they might have been swallowed, but he has no intention of being eaten. Instead, from inside the wolf, the pair enjoy tasty home-cooked meals and dance parties, all without the ever-present fear of predators that nagged them before. Life is good until the wolf experiences a bellyache. His moans attract the attention of a hunter, and when all of their lives are in danger, the mouse and the duck decide they need to intervene.  Jon Klassen's muted mixed-media illustrations are the perfect compliment to this subtly funny story, and readers will laugh at all the items mouse and duck find inside the wolf. Fans of this duo's previous collaborations, including the Caldecott Honor winners Sam and Dave Dig a Hole and Extra Yarn, will eagerly devour this latest offering.  THOUGHTS:  This original pourquoi tale will be a wonderful addition to storytimes, and it will very likely fly off elementary shelves.
Picture Book     Anne Bozievich, Southern York County SD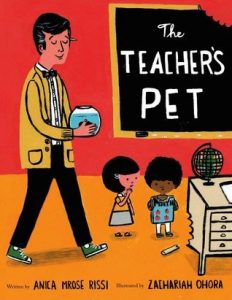 Rissi, Anica Mrose. The Teacher's Pet. Disney Hyperion, 2017: ISBN 978-148474364-5. 32pp. $17.99. Gr. K-3.
Mr. Stricter has always dreamed of having a pet, so he's very excited when the science projects hatch. Each student monitors the growth of one tadpole, and when they're grown, they release all the projects into the wild: all except one. Bruno, the last one to hatch, had been the smallest, but as he devours everything in sight, he grows, and grows, and grows. The students quickly realize Bruno is a hippo, and his size is troubling, but Mr. Stricter is blinded by love and is oblivious to any problems. Even as Bruno smashes desks, chomps textbooks, and snores during silent reading, Mr. Stricter declares his love for the class pet. It isn't until Bruno swallows Mr. Stricter whole that the class is forced into action to get their teacher back.  THOUGHTS:  This title will make a wonderful read-aloud thanks to the witty restraint the author uses. The word "hippo" never appears in the book, but students will immediately notice what Mr. Stricter does not: Bruno looks different from the other tadpoles. The bold acrylic and pencil illustrations shine, extending the text and allowing Bruno's larger-than-life personality to take center-stage. This will be a good match for science units about watching animals hatch and grow.
Picture Book       Anne Bozievich, Southern York County SD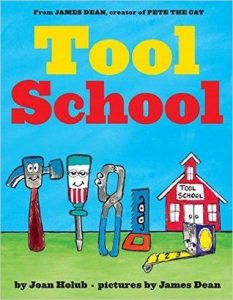 Holub, Joan. Tool School. Scholastic, 2017.  978-0-545-68520-7. $16.99. Unpaged. PreK-2.
Five little tools, hammer, screwdriver, tape measure pliers and saw, head to school. Each is eager to display his or her skills but find working alone doesn't produce very good results. Ms. Drill, their teacher, encourages them to cooperate, yielding better results. Bouncy rhyming text with bold illustrations by James Dean (Pete the Cat) make this a perfect workshop introduction for the tiny tool time set. Cool tool tips are included after the story.  THOUGHTS:  This would be a great introduction to a primary maker-space experience, promoting creativity and cooperation.  
Picture Book      Nancy Nadig, Penn Manor SD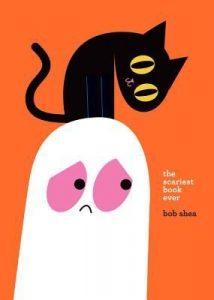 Shea, Bob.  The Scariest Book Ever. Disney, 2017. 978-148473046-1. $16.99. Unpaged. Gr. Pre K – 2.
Boo! A tiny ghost tries everything to avoid going into the scary woods, from spilling orange juice on himself (drat, he has to take his sheet off) to a bellyache, to convincing the reader that he can be scary right at home. Meanwhile, the reader is apparently reporting back what horrors lurk in the woods – bunnies! Woodland creatures! Doughnuts! Eventually the little ghost is convinced to go into the woods, where he finds a costume party. Shea's familiar-style illustrations (Ballet Cat, Buddie and the Bunnies) add to the humor of the little ghost trying to convince us he is brave and scary. THOUGHTS:  Youngsters will giggle wildly over the silly juxtaposition of thought and image, as the little ghost tries to be brave but is so obviously afraid of the unknown in the woods.
Picture Book      Nancy Nadig, Penn Manor SD