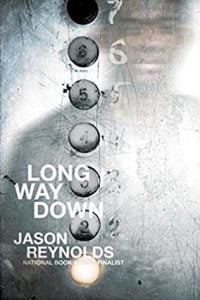 Reynolds, Jason. A Long Way Down. Atheneum, 2017. 978-1-4814-3825-1. 306 pp. $17.99. Gr. 8 and up.
The day before yesterday, Will's older brother Shawn was shot and killed. Will experiences intense grief: "the new empty space, / where you know / a tooth supposed to be / but ain't no more." But, Will lives by the neighborhood code: don't cry, don't snitch, get revenge. So he retrieves his brother's gun from its hiding place and heads for the elevator, prepared to seek justice for Shawn's death. Most of the novel takes place over the roughly one-minute, eight-story elevator ride that follows. At each floor, the elevator stops and someone from Will's past steps on. First is Buck, wearing his own RIP Buck t-shirt. Next is a girl, Will's friend Dani who was shot and killed when she was just eight. As the elevator descends, and the Will's deceased friends and family members join him, he begins to question the necessity and wisdom of vengeance. The book closes on a chilling note, leaving readers to ponder some big, unanswered questions.  THOUGHTS: In this poetic, thought-provoking, and intriguingly structured novel-in-verse, Jason Reynolds depicts the ripple effects of violent crime on the young man left behind.
Realistic Fiction       Amy V. Pickett, Ridley School District
Reynolds, Jason. Long Way Down. Antheneum/Caitlyn Dlouhy Books, 2017. 978-1-481-43825-4. 320 p. $17.99. Gr. 9 and up.
The rules in Will's neighborhood are simple: 1. Crying, don't. 2. Snitching, don't. and 3. Revenge, do. But Will's decision to avenge his brother's murder is anything but simple. As Will travels down the elevator with Shawn's gun (Shawn had a gun?!) tucked into his waistband, he is prepared to murder his brother's killer. New passengers slow his ride at each floor. Readers will quickly understand each of these passengers is dead, he or she is connected to Will, and they each have something to tell him before he steps off on the ground floor.  THOUGHTS: Having recently listened to All American Boys and a Jason Reynolds interview about his writing, I knew I had to read Long Way Down. Readers of all types will be drawn into Will's story and devour this fast-paced novel in verse. Though tough topics and violence are depicted, this is a book for many readers, especially those who are reluctant.
Realistic Fiction     Maryalice Bond, South Middleton School District
Watt, Erin. When It's Real. New York: Harlequin, 2017. Print. 978-0373212521. 416 p. $18.99. Gr. 9-12.
This novel starts out like a Disney channel movie, which is not necessarily a bad thing, depending on your view of Disney made-for-TV movies, and, like most Disney movies, the novel ends up being a sweet romance that will capture the attention of any teen girl or boy who enjoys teen dramas. Oakley Ford has been breaking teenage hearts since he landed on the music scene as a young adolescent. But, in his older teen years, he has hit a rut and needs something in his life to get him motivated to write and perform. His publicists decide that he needs a "wholesome" girlfriend to change his image in the media. Enter Vaughn Bennett, whose sister works at the media firm and who catches the eye of Vaughn's team. They tell her they will pay her to be Oakley's girlfriend, and since she and her sister are raising their younger brothers after the death of their parents, she decides it's something she must do for her family. The usual ensues- Oakley annoys and intrigues Vaughn, Vaughn annoys yet arouses something in Oakley that makes him want to write music again. The characters are interesting if a bit predictable, and the plot suffers from the same misfortune, but teens will eat up the romance between Oakley and Vaughn. There is drinking, drug use, and sexual references, which does cause the novel to venture out of the realm of the chaste Disney film. THOUGHTS: This is another romance to add to your collection for those who love Sarah Dessen but are looking for a more exciting location and a variety of characters not generally found in Dessen's novels. Recommended for high school libraries.
Romance     Lindsey Meyers, Shadyside Academy
Green, John. Turtles All The Way Down. New York; Dutton Books, 2017. Print. 978-0525555360. 304 p. $19.99. Gr. 9 and up.
Anything with John Green's name on it will cause excitement among young adults everywhere, whether they read his books or watch his humorous, yet instructional, videos. Turtles All The Way Down does not veer far from his standard fare of engrossing teen dramas, but it does offer a unique and honest glimpse into the life of one dealing with severe anxiety and OCD, and how her struggle affects those around her. Aza Holmes is our tragic hero, trying to manage her OCD and anxiety while living a "normal" life. She spends time with her mom (her dad passed away when she was younger), hangs out with her friend Daisy, and does well in school. She also, however, constantly changes a bandage on her hand, fears catching bacteria, especial C.Diff, and tumbles constantly into "thought spirals." When billionaire Russell Picket goes missing, Daisy convinces Aza to help her investigate the disappearance, mostly to acquire the $100,000 reward. Aza knows his son from a summer camp when they were younger, and a chance meeting rekindles their friendship and begins to lead to something more. But, can Aza maintain a relationship while managing her OCD?  John Green does an excellent job of portraying Aza. Her inner dialogues perfectly exemplify one with OCD, and the constant state of helplessness one finds oneself in when dealing with intrusive thoughts and irrational actions. THOUGHTS: John Green has once again given us an intriguing story of a unique (or is it?) teen experience. Highly recommended for young adults and adults who deal with teens struggling with mental health issues.
Realistic Fiction       Lindsey Meyers, Shadyside Academy
Green John. Turtles All the Way Down. Dutton Books, 2017. 978-0-525-55536-0. 286 p. $19.99. Gr 9-12.
John Green's long-awaited new novel is here, and it's his best one yet. Sixteen-year-old Aza and her best friend Daisy take notice when local billionaire Russell Pickett disappears. The reward for information in his case is a hundred thousand dollars, and Daisy is sure their sleuthing will lead to clues and ultimately to the reward. After all, Aza spent summers at "sad camp" with Russell's son, Davis, after his mom and her dad died, so reconnecting with the Pickett family isn't hard. As Aza and Davis reconnect and begin to fall for each other, Aza's always present anxieties and compulsions begin to spiral, and readers are shown what it's like to live every day consumed by claustrophobic, obsessive thoughts. Aza's voice is raw and heartfelt, and Green also throws in a hefty dose of nerdery and humor that will win over teen and adult readers alike. THOUGHTS: Green's latest is an unflinching, honest look at mental illness that is at times challenging to read, but will linger with readers long after finishing.  If you buy one book this year, it should be this.
Realistic Fiction      Vicki Schwoebel, Friends' Central School