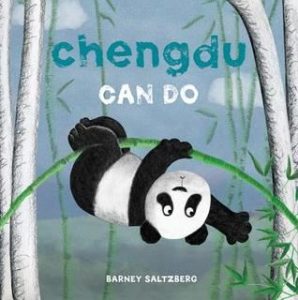 Saltzberg, Barney.  Chengdu Can Do.  Disney-Hyperion, 2017. Unpaged. 9781484758472.  $16.99. Gr. PreK-1.
This is the latest book in the series about an adorable young panda named Chengdu.  In this volume, Saltzberg tells the story of what Chengdu can do on his own when he realizes he is hungry.  He finds a tasty bamboo plant, and the reader sees how Chengdu can jump, climb and swing on the shoots.  One thing he cannot do is reach the leaves until he gets help from two other pandas.  Although we are not told, we assume it is his parents who pull the tall bamboo plant down so Chengdu can munch on the leaves.  This book will appeal to young readers, who will see themselves in Chengdu as they realize what they can do on their own and when they may need help. The illustrations are done in pencil and watercolor with digital enhancement and are full bleed with a soft color palette.  Saltzberg uses foldout pages to show the length of the bamboo plant that the panda has climbed.  The panda swings back and forth on the bamboo shoot only to be catapulted off onto the ground.  The illustrator creatively shows this action sequence through the use of a foldout page followed by one-quarter and one-half size pages, which makes this part of the story appear to be almost animated.  Thoughts: Young children will enjoy reading the adventures of this young panda bear.  This book would be a good read aloud for preschoolers and primary grade students.
Picture Book         Denise Medwick, West Allegheny School District
Toht, Patricia. Pick a Pine Tree. Candlewick Press, 2017. 978-0-7636-957102. Unpaged. $16.99. Gr. K-3.
Looking for a fresh book to add to your holiday collection? Choose this jolly new offering from Patricia Toht. Pick a Pine Tree follows a family through their day as they find a tree at the Christmas tree lot, take it home and set it up, and host a decorating day with friends and family to trim the tree. Toht's simple rhyming text evokes true holiday joy at all the simple traditions that families value during this season, such as setting up a Christmas tree. "Find the trimmings stored within bulging boxes, rusty tins, paper bags, a wood case. Bring them to that special place, there, beside your tree." Illustrations by Jarvis are done with pencil, chalk, and paint. The colorful, cozy-looking pictures pair perfectly with Toht's secular story. This is my favorite new holiday book that I purchase this year! THOUGHTS: Perfect for storytime or one-on-one sharing, read this little gem to children eager to begin the holiday season and trim their own trees.
Picture book         Lindsey Long, Lower Dauphin School District