Galligan, Gale. Dawn and the Impossible Three. Scholastic, 2017. 978-1-338-06730-9. $24.99. 160p. Gr. 3-7.
This is a full-color graphic novel that is sure to delight readers. The best friends have many obstacles throughout the book. From friendship disagreements, parents remarrying, parents dating, and babysitting parents with divorce visitation difficulties, there's a lot of conflicts to overcome. Friendship prevails.  THOUGHTS: While the fifth book in the graphic novel series, the books do not read to be read in order. Gale Galligan is picking up with the artwork just where Raina Telgemeier left off.
Graphic Novel, Realistic Fiction    Beth McGuire, Hempfield Area School District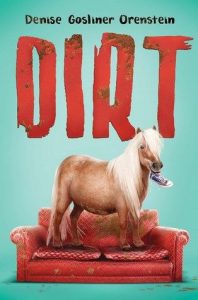 Orenstein, Denise Gosliner. Dirt. Scholastic, 2017. 978-0-545-92587-7. $16.99. 224p. Gr. 3-7.
Yonder is now in fifth grade and does not talk at school or confront the bullies. She hasn't talked since the traumatic loss of her mother. Her father hasn't healed from this loss and seldom leaves his room. After getting in trouble at school, Yonder tries to avoid school by playing hookey. Eventually, the truancy officer gets Yonder to go back to school. Yonder looks forward to taking care of the neighbor's pony even if it does overeat, so long as the pony does not become horsemeat to others. After skipping school and finding the unhabitable state of the house, Yonder is removed to foster parents. When coping with the stress, Yonder's father has a stroke. How will everything work out for Yonder and her family?  THOUGHTS: Readers that like horses or Black Beauty might also enjoy this novel. Classmates of Yonder in the novel are extremely unkind and their actions can be a point of discussion with students.
Realistic Fiction    Beth McGuire, Hempfield Area School District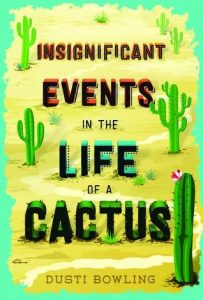 Bowling, Dusti. Insignificant Events in the Life of a Cactus. Sterling Children's Books, 2017. 978-1-45492345-9. 262 p. $14.95. Gr. 6 and up.
Wonder meets Stargirl in Dusti Bowling's charming new novel, Insignificant Events in the Life of a Cactus. Meet Aven, a thirteen-year-old girl, forced to move from her home in Kansas to Arizona, where her parents are managing a slightly decrepit wild-west theme park called Stagecoach Pass. Also, Aven has no arms. While she likes to entertain people with wild stories about how she lost her arms, Aven was in fact, just born without them. While her friends back in Kansas were completely used to Aven, her new classmates in Arizona are not. Although Aven has moments of self-consciousness and embarrassment when she has to do things with her feet, for the most part, she is a supremely upbeat, hilarious kid, and, as she says over and over again, doesn't mind when people are curious; what she does mind is when people don't treat her like an actual human being, or treat her like an invalid. While avoiding the school cafeteria (Aven feels unprepared for everyone to watch her eat with her feet), she meets Connor and Zion, two boys who also avoid the cafeteria;  Connor, because he has Tourette's, which manifests as barking and ticking; Zion, because he's overweight, and doesn't want to be stared at. In short order, the three become fast friends, and all of them get caught up in the mystery of the Cavanaughs, the owners of Stagecoach Pass who haven't been seen in years, and end up discovering a big secret about Aven's past. THOUGHTS:  Aven's zeal to make Connor feel "normal" can get a little overbearing at times, and Zion takes a pretty large backseat to Aven and Connor's friendship, but otherwise, this is a delightful, heartwarming story with a positive message. Hand this to readers who are looking for Out of my Mind and Wonder read-alikes.
Realistic Fiction      Lauren Friedman-Way, The Baldwin School