Paterson, Katherine. My Brigadista Year. Candlewick Press, 2017. 978-0-7636-9508-8. 198 p. $15.99. Gr. 5 and up.
There's no stopping the inimitable Katherine Paterson, who is back with a succinct novel about Fidel Castro's plan to make the entire country of Cuba literate in one year. My Brigadista Year follows thirteen-year-old Lora as she volunteers to be a teacher – a Contrado Benítez Brigadista – in the Varadero region of Cuba. Most Americans probably have no idea that Fidel Castro not only set out to make his country literate, but he succeeded.  The literacy rate went from around 65% to 98% in one year, thanks to his volunteer army. Lora's enthusiasm for her task, her deep caring for her students – ranging from six to sixty – and her determination to see them all pass their tests (there are three), is moving. While the safety of Lora and her students is constantly in jeopardy by the bandidos who support Batista, it's not at the forefront, and is fairly subdued. This is a quiet book about the power of words, and how the ability to read can literally change a person's life. It also makes no bones about the US involvement with the Bay of Pigs, a forgotten slice of history, and how unfavorably the people of Cuba viewed America. A well-researched, fascinating window into the lives of the Cuban people in the 1960s. THOUGHTS: This is a very accessible historical fiction novel, with an appealing and relatable protagonist, and would be a great addition to any upper elementary or middle school library.  Highly recommended!
Historical Fiction     Lauren Friedman-Way, The Baldwin School
O'Neill, Katie. The Tea Dragon Society. Oni Press, 2017. 978-16-2010-4415. 72pp. $17.99. Gr. 4-8.
This lovely, full color, graphic novel will win the hearts of middle grade readers. Set in a fantastical world where most characters have at least one animal feature (horns, tails, etc.) Greta is learning blacksmithing from her mother. The art is dying out, but Greta is excited to learn. One day in the market she finds a lost little dragon. When she returns it to its owner, Greta learns that it is a tea dragon and that the art of raising, bonding, and drinking tea harvested from tea dragons is also in danger of being forgotten. Greta begins learning how to care for these creatures and in turn is accepted by three new friends. THOUGHTS: Based on a webcomic, this short and sweet graphic novel is wonderful. It treasures patience, inclusive relationships, and in this world it does not matter what you look like. A definite addition to any graphic novel collection!
Graphic Novel, Fantasy           Emily Woodward, The Baldwin School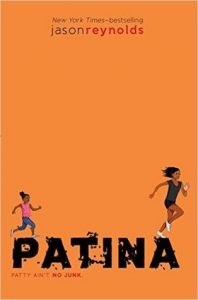 Reynolds, Jason. Patina. New York: Atheneum Books, 2017. 978-1-4814-5018-8. 240 p. $17.99. Gr. 6 and up.
Jason Reynolds wins for most prolific author of the year, and his ability to transition from upper YA to middle grades is astounding. In his newest addition to his Track series, Reynolds gives us the story of the titular character. Patina lives in three worlds: her homeworld, her track world, and her school world. Patina's home life is complicated; she lives with her aunt ("Momley"), who is white, and her uncle because her mother, who is a double-amputee due to diabetes, is too sick to care for her and her sister. School is a struggle for Patina; she attends a private school, and feels like a "raisin in a bowl of milk". She can't relate to her classmates, who she calls the "hair flippers" at all. Her track life is what she looks forward to the most.  She is a rising star, but needs to learn to control her emotions and connect with her teammates. This is a perfect book for middle grade readers; Patina is funny, honest, awkward, and emotional, and her story, full of emotional ups and downs, strong adult characters, and nuanced supporting characters, will resonate with every reader. Thoughts: Hand this book to any middle school student who is struggling to find their own voice and their own path. No need to have read Ghost, the first book in the series, in order to follow Patina's story.
Contemporary Fiction; Sports      Lauren Friedman-Way, The Baldwin School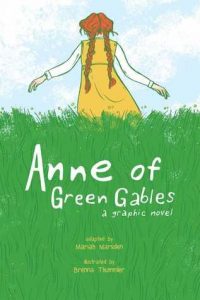 Marsden, Mariah. Anne of Green Gables: A Graphic Novel. Andrews McMeel, 2017. 978-1-4494-7960-2. 230p. $10.99.  Gr. 5 and up.
This graphic adaptation of the entire Anne of Green Gables series touches on many of the stories of the original books and retains much of the feeling that I remember. Anne is an orphan who is mistakenly placed in a house that was looking for a boy.  She makes a place in the hearts of Marilla and Matthew and has many escapades while growing up.  Anne's character shines through, as well as the brother and sister who take her in. THOUGHTS: This could be a jumping off point for young readers to indulge in reading the books, or for older generations to take a quick trip down memory lane. Either set of readers will enjoy reading about Anne's exploits in a more simple time.
Graphic novel     Toni Vahlsing, Abington Friends School